Midwinter racing on San Francisco Bay began with Golden Gate Yacht Club's Seaweed Soup race on Saturday and the Sausalito YC Chili Winter race on Sunday. Both days were blessed with adequate wind, overcast mornings and sunny afternoons. It was a picture-perfect weekend of racing on the West Bay along the Presidio/Cityfront and between Angel Island and Yellow Bluff. Every boat attire from full foulies to shorts and tees could be seen as the damp mornings evolved into warm afternoons.
Saturday's GGYC race began with all fleets headed for Blackaller Buoy as their first rounding mark. The scene was tourist-postcard perfect; the Golden Gate Bridge was shrouded in fog with only the tower tops sticking into the sky. Fog horns echoed, the heavy ocean swell poked into Fort Point, smashing against the rocks, and the early finger of fog extended almost to Alcatraz Island. PRO Charles Hodgkins got things rolling on time with the first gun at 1130. Seven divisions, comprising 55 boats, started with the surprising early flood keeping any would-be OCS boats on the correct side of the startline. The flood built to max at 1426 and many skippers commented it seemed stronger than the 1.1-knot speed predicted.
The race committee wisely kept courses close to the San Francisco shoreline. The larger boats sailed a 7.5-mile course from Blackaller down to Blossom Rock, back to the StFYC's 'A' buoy, a short run to YRA #6 (Fort Mason), and a sprint to the finish. In PHRF 1, Tony Pohl's Farr 40 Twisted finished first with an corrected time of 1:21:12. PHRF 2 was taken by Bob Novy's Frers 41 Jeannette, that corrected out at 1:21:52 Ten boats sailed PHRF 1 and 12 sailed PHRF 2.
PHRF 3, PHRF 4 and the Catalina 34 fleet sailed a shorter 6.8-mile course with two roundings of Blackaller and YRA #6 before finishing. Bren Meyer's Wyliecat 30 Uno and Gordie Nash's Arcadia dueled it out for honors in PHRF 3, with Uno eking out a six-second corrected-time victory.
PHRF 4 was dominated by three IODs, with Paul Zupan's One Hundred finishing 45 seconds ahead of Ron Young's Youngster. Ten boats sailed PHRF 3 and 6 boats sailed PHRF 4.
The seven-boat Catalina 34 division saw David Sanner's Queimada finish first, followed by Chris Owen's Mottley, which beat Ray Irvine's Crews Nest by three seconds. Irvine commented about the beautiful day with no wind changes, the fog melting into sunshine.
The race committee gave the Knarr and Folkboat fleets a 6.1-mile course that looped from YRA 16 (Blackaller) down to YRA 18 (Blossom Rock) and finish. John Jenkin's Narcissus took first among the eight Knarrs. In the eight-boat Folkboat fleet, Richard Keldsen's Nordic Star placed first.
Tracks for several GGYC competitors can be found on Jibeset. The next race in the series will be held on December 3.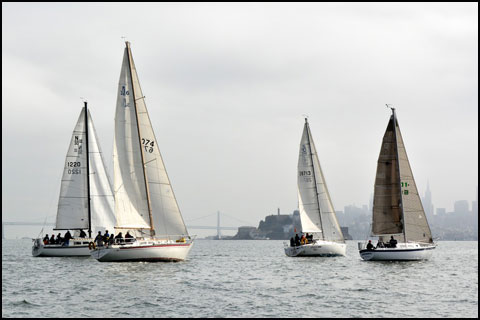 The non-spinnaker Division D in the SYC Midwinter race on Sunday. ©2016 Roxanne Fairbairn/roxshots.smugmug.com
Sunday's Sausalito YC Chili Midwinter got rolling at noon, with 30 boats showing up to race. PRO Tim Prouty set a windward/leeward drop-mark course from near Point Knox to near the old Yellow Bluff buoy location. The race started at slack, and since the day's flood was only .9 knots, many competitors commented that it was like sailing on a lake, a very unusual sensation for many. The SYC staff commodore thanked the Sausalito ferry captain who changed course and slowed down to allow Division D boats to continue racing without interruption. Many of those Marin ferry captains are sailors themselves.
Division A toured the drop mark 'hot dog' course twice before a downwind finish with Gary Panariello's J/88 Courageous correcting out first. Division C followed with the same twice-around. Ron Young's Youngster came in first. The J/105 division sailed the same course. Ron Anderson's Streaker finished first.
Two non-spinnaker fleets sailed a shorter once-around loop. In Division D, Philip Hyndman's Cal 29 Serendipity trumped Dave Barton's Beneteau 350 French Kiss. A small Division E saw Jan Hirsch's Islander 30-2 Sweet Pea beat the other entry, Josh Dvorson's Ericson 27 Homus.
Rae Grenier, sailing on Le Mer loved the pair of harbor porpoises that "made my day" as they accompanied the Newport 30 around the weather mark under balmy skies.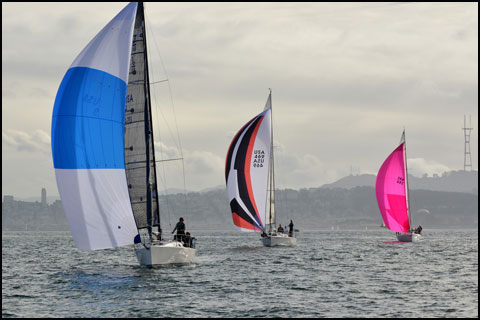 The J/105s return from Yellow Bluff. ©2016 Roxanne Fairbairn/roxshots.smugmug.com
To view more of Roxanne Fairbairn's photos from the SYC race, see her SmugMug gallery. The race video has been posted on YouTube.
The next SYC race will be held on December 4. Both the GGYC and SYC series are still accepting entries, so there's plenty of opportunity to race on the first Saturday and Sunday of the month through March.
— pat broderick