John Newman and Buzz Blackett won the first Express 27 Nationals in 1982; the Carl Schumacher-designed ultralight displacement sailboat will celebrate its 35th anniversary at the 2016 U.S. Nationals to be held at Berkeley Yacht Club on October 14-16.

Hull #1 of the new Express 27 ultra-light displacement sailboat was launched in July 1982. The idea for the boat came out of an understood need for a mid-range ULDB; brothers and boatbuilders Terry and Peter Alsberg commissioned the legendary boat designer Carl Schumacher to design it.
Now 35 years later, the Express 27 is as popular as ever with active local fleets in the Midwest, Pacific Northwest, and Northern California.
"I was basically looking for the ultimate weekend warrior's boat — a boat for the Bay or ocean with the room and comfort of an Olson 30 and the performance and ease of handling of a Moore 24," Terry Alsberg once remarked.
Over the past three and a half decades, the boat has succeeded on all fronts and remains popular for buoy racing, long-distance Bay and ocean racing, and weekend cruising with the family.
"There's no other boat that does all the things that we do in the Expresses and has a huge national presence," said Zack Anderson, current fleet president and co-owner of Motorcycle Irene.
As of Thursday night, 24 boats were registered for the 2016 Nationals. One notable entry and a testament to the longevity and skilled boat building will be Dianne, also known as Hull #0, now owned by Steve Katzman. With the Lake Tahoe Windjammers YC season now complete, Katzman trailered the boat to the Bay from South Lake Tahoe for this event and the winter season.
"It is a piece of nautical history, hull #0," said Katzman. "It was built of cold-molded wood near designer Carl Schumacher's shop in Alameda. Alsberg had asked Schumacher to draw a boat that took the best of all the ULDB boats that had come out of Santa Cruz. And from that came hull #0. As the story tells it, they sailed it, found it to be good, took it back to the shop, faired it out, and built the production mold off the perfectly faired hull. It has been sailed ever since."
Katzman was drawn into the class around 1998 sailing that particular boat with Rob Mayberry, who owned it with Stephen Hodges (no relation to the sailmaker, David Hodges.) Katzman had bought out Mayberry's share by 2003 and became full owner by 2005, but notes that Stephen Hodges will join him as crew at this year's regatta.
"These boats keep going strong after 35 years because they are Santa Cruz ULDB boats that sail exceptionally well in all conditions and are particularly well mannered downwind in waves," said Katzman. "They are fun to sail the way a fine automobile is fun to drive, and the members of the class are great sports and competitors on the water, and ladies and gentlemen at the bar." Katzman has participated in about 10 previous Nationals.
"Carl designed the Express 27 to last, and obviously it has," said Carl's widow, Marilyn Schumacher. "But he also designed it to look good whether you're on the boat or off the boat watching it sail. And 35 years — that's kind of a record. That was longer than we'd been married. When I see his boats sailing, it makes my heart warm."
Keeping a fleet like the Express 27s going is a lot more work than just organizing an annual regatta.
"The hardest challenge is to build a great schedule that keeps the fleet active, to bring the fleet together for the big events like Three Bridge Fiasco and the Great Vallejo Race and also hit the top buoy racing events of the year," said Anderson.
In San Francisco, Express 27s race annually in the Championship Series, which is made up of buoy racing events, and the Long-Distance Series. Over the past two seasons, Express 27s have won a number of PHRF races in the Bay: In the 2015 Three Bridge Fiasco Expresses finished first and second monohull overall; in the 2016 SSS Corinthian Race doublehanded division four out of the top five boats were Express 27s. The boat is also exceedingly popular for weekend of sailing with friends and family.
"Paul Deeds is a former national champion, but lately all he's been posting on Facebook are pictures of taking his kids out on the boat every weekend. It's really rare these days to have a boat that can perform in a variety of racing events, is comfortable to take the family out on the weekend, and is still priced reasonably," said Anderson. Deeds won the 2000 Nationals on his boat Lorax.
The Express family — the 27, the 34, and the 37 — has attracted a number of notable sailors over the years. Past Express 27 national champions include Olympic silver medalist and former Rolex Yachtsman of the Year John Kostecki, Norman Davant of Sail California, David Hodges of Ullman Sails, and Jeff Thorpe and Will Paxton of Quantum Sails.
"One of the things that attracted me to the Express early on in my sailmaking career is that it's been a favorite boat of all the local long-time sailors and sail makers — Kame Richards, David Hodges — for any local sailor, that was their boat to sail. The competition's always been really good," said Paxton.
Paxton sailed his first Express 27 in a Richmond Yacht Club midwinter regatta at 15 years old. He's owned Motorcycle Irene for the past 22 years; Anderson is his fourth boat partner.
"The class has always had a lot of really good sailors and also friendly people in it and that makes it fun to sail. We have a very active website to help recruit new owners and crew, and class members all go out of their way to help get new people up to speed," said Paxton.
The Express 27 class holds regular on-the-water tuning clinics to help skippers and crew improve boat speed and handling, maneuvers, and starts.
As for who's likely to be among the winners this year, Paxton, a six-time winner himself, said there are a lot of good sailors out there but he'll especially be keeping an eye out for Nick Gibbens on Shenanigans, Matt Krogstad on Tequila Mockingbird, John Rivlin on Peaches, and Dan Pruzan on Wile E. Coyote.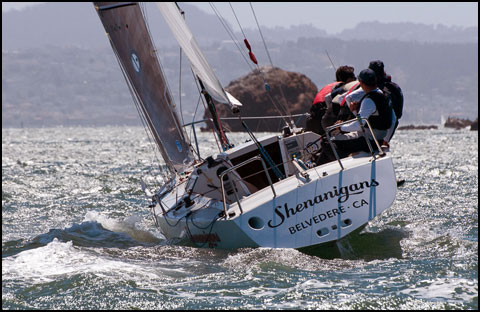 Shenanigans is the reigning National Champion.
©2016 Erik Simonson / www.pressure-drop.us
Gibbens, a four-time Nationals winner and defending champion, has been sailing on Express 27s since the late 1980s when he got involved with Russ Johnson and Leon Daniels on Leon Russell. They sailed a number of local YRA regattas as well as two "epic Coastal Cups" that remain highlights of Gibbens' offshore memories.
"Shenanigans hasn't materially aged in the 18 years or so that I've been sailing her. An active fleet really helps keep the class strong and attractive to new owners," said Gibbens.
Without fail, every Express 27 sailor interviewed for this article cited "the people" as one of the top reasons they stay in the fleet.
"My favorite race of the year is the Vallejo Race. Not only because Expresses have won multiple years, but because at the end of the day the fleet rafts up and has a party together," said Anderson. "People bring drinks and hors d'oeuvres in their coolers on these little 27-ft boats and sit around and have a good time. It's literally a dogfight all day long with a huge social reward at the end."
David Hodges of Ullman Sails in Santa Cruz got into the Express 27 fleet after building a set of sails for Dianne and did the first Nationals on her. He's since participated in 18 Nationals, winning four as skipper and one as crew. Per a now long-standing tradition, he'll be donating a keg of beer to the fleet for the after-sail festivities.
"The Express 27 offers the ability to go offshore; to launch at any yacht club; to sail to Hawaii and to the Farallones. We buoy race; we haul them out and drysail them; we travel around — there's people coming down from Tahoe and from the Gorge again this year. It's just a great boat for having fun," Anderson added.
The 2016 Express 27 U.S. Nationals will consist of seven races over three days, including buoy racing and long distance racing. All events will be hosted by Berkeley YC, and sponsors include Ullman Sails and Whitecaps Marine Outfitters. For class contacts, to register, or to find a boat that needs crew, visit express27.org.