It's official! Midwinter racing on San Francisco Bay has begun. (At least the warm, light wind, flat water, strong currents part of Midwinter racing, that is.)
The weekend of November 12-13 was the beginning of Berkeley Yacht Club's four-month Midwinterseries. The Saturday series is separate from the Sunday series. These regattas have been run on the Olympic Circle since the late 1950s.
Saturday:
The 42 entries, divided into seven divisions — including 18(!) Express 27s — came out to enjoy the fine weather. The one-hour postponement allowed folks to get together, enjoy the sunshine, chat, eat lunch and mill about. Then, after the hour elapsed, the wind gods figured it was the proper time, and a reasonably steady 4-8 knot breeze appeared.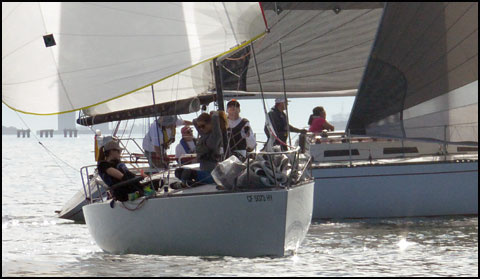 Checking out the spinnaker while waiting out Saturday's postponement. ©2016 norcalsailing.com
The fleet was sent out on an 8-mile double windward/leeward course. The racing was tight, with only six minutes separating the first and last Express 27 and only 11 minutes on corrected time separating the first and last of the whole fleet. The last boat finished by 1500, and this was a good thing for all concerned, as the tide was scheduled to almost empty the Bay by 1533!

Sunday:
The Sunday event also includes the Shorthanders — both Double and Single. The wind was a little earlier than Saturday (only a 30-minute postponement) and a little lighter with a lot more "I don't know where I want to be" attitude about direction. But there was still plenty of sunshine.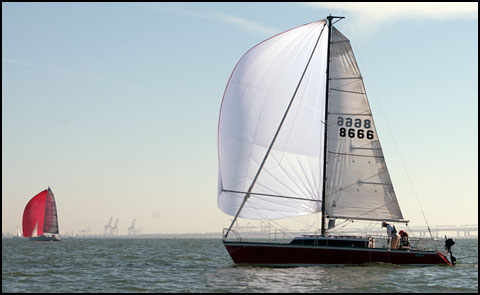 Greg Nelsen's Azzura 310 Outsider (left) and Stephen Buckingham's Black Soo Starbuck — which Greg used to own — raced in the Doublehanded Division on Sunday. ©2016 norcalsailing.com
The 25 boats were sent on a double windward/leeward course, and all but one finished before 1430 — plenty of time to get back to the barn before all the water left the Bay. Full results can be found at www.berkeleyyc.org/racing. The next weekend of racing in the series will be on December 10-11.
— Bobbi Tosse, BYC Race Committee