Mark & Shana Howe
When Mark Howe met Shana Bagley, she was sailing on a competitor's boat, the Santa Cruz 50 Deception. "I always had my eye on her," said Mark.
"I'd seen him around the sailing scene — sometimes while passing me on the racecourse," said Shana. "I assumed he was married. I once thought how amazing it would be to someday race on a boat like War Pony (LOL. Be careful what you ask for — you just might get it — and then get the worst nappy rash of your life!)" War Pony is a very sporty Farr 36.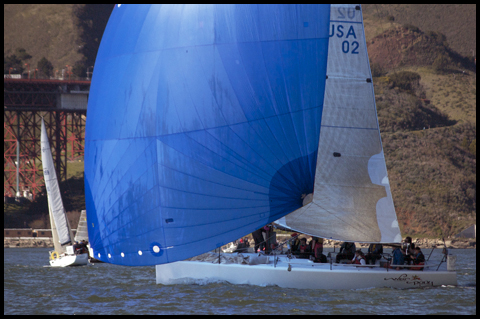 War Pony on the racecourse. ©2013 norcalsailing.com
Progress was made thanks to a party at Mark's house in Richmond. "My son, Ross, and Alex Knox, my bowman, played music. Shana crashed the party, saw that I still had ornaments on my tree in late February and realized I was single." 
"We went on a few fun outings but I am not sure either one of us were sure they were dates," said Shana. "When I came back from the 2013 Transpac, we sailed a beer can race and then went out to dinner — a real date.
"I'd sailed a few ocean races on War Pony. I was pretty impressed with Mark. Around Thanksgiving 2013, he came up with the crazy idea to doublehand the Pacific Cup (and I was crazy enough to say yes). The first three days or so of Pac Cup, we struggled to put on the same leg of the 'I'm in Charge Pants'. We finally realized that we needed to work together and that arguing didn't make us go fast. We had to trust and take care of each other. We had a soggy pipe berth and no head, galley, or standing room down below, but we also had amazing sunsets, vivid blue seas, and open ocean driving nirvana —  so we were happily miserable together. We left each other 'love notes' at the nav table [see the photo at the top of the page]. We were wet, delirious, mentally/physically exhausted, BUT we laughed almost the whole way (except when I broke the autopilot)."
Mark said that the Pacific Cup on War Pony was "Harder than I thought — too powerful to doublehand." Shana agreed. "It was the hardest thing I'd ever done, even harder than the Southern Ocean," which she traversed as part of the Clipper Race in 2009-10.
"We did it together. That makes it really special — it was all ours. Our doublehanded campaign put a lot of stress on our relationship, but it was like a fast-track relationship counselor. When we stepped off the boat in Kaneohe, we knew our relationship could withstand almost anything."
"If you can doublehand together the other stuff is easy," Mark added.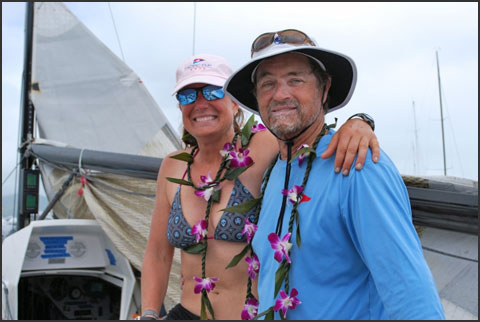 Shana and Mark made it to Kaneohe — and they still liked each other. Photo Courtesy War Pony
"I moved in on what was supposed to be a temporary basis," said Shana. "Shortly after returning from the Pac Cup in August 2014, we were engaged, I sold my house in Walnut Creek, and, in August 2015, I married my best friend. We are still sailing —  we own two boats together, a J/70 and an SC50.
"After doublehanding on a flying submarine, I wanted a 'mattress and a wheel'. Mark started looking at some crazy boat options, so I had to find something we both liked — FAST.  At first, Del Olsen was talking to us about racing Adrenalin to Hawaii, and then we found out she was for sale. It was an easy decision, especially because it was right in our backyard. It just made sense." 
Mark and Shana bought the SC50 Adrenalin together. "Besides being a great sailor, she arranges the crew, a job I detest," said Mark. The couple is now planning to race the Pacific Cup fully crewed on the SC50, a drier, faster boat. They're also planning cruise-outs, a Baja Ha-Ha, and beyond. 
Mark is the owner of MSH Properties; Shana describes herself as a "recovering state prosecutor" who now handles government relations for MSH. So they not only sail together, they work together. 
Mark's advice for the guys: "Sailing women tend to be  strong-minded, so the macho male thing doesn't work."
"It is nice to have a common 'obsession' but make sure you share other experiences, too (camping, traveling, community service...)," advises Shana. She points out that "You don't have to sail on the same boat — it is also fun to meet at the regatta party and compare notes. Sailing has opened my eyes to the beauty and the power of nature and has taught me the value of time — spend more time with the people you love — go sailing on Valentine's Day!" 
 See Shana's blog about the Pacific Cup here.