Yes, we did race on Super Bowl Sunday. The fourth Sausalito Yacht Club Chili Midwinter competed with the Super Bowl on February 6. Everyone felt safe with Coast Guard Cutter and two inflatables in Richardson Bay, complete with 50-caliber machine guns mounted — one manned — at the ready. I'm pleased to report no terrorists were spotted. At the end of the day, both the Denver Broncos and SYC racers won out over oddsmakers: Las Vegas for the Broncos and NOAA for the racers.
Twenty-two boats in five divisions were postponed until a northerly wind piped up about 12:30. The SYC race committee selected a course from near Little Harding Rock to Sausalito Day Mark #2, out to Big Harding Rock, and a finish back near Little Harding. All roundings were to port, which became critical halfway through the race when most boats approached Harding Rock.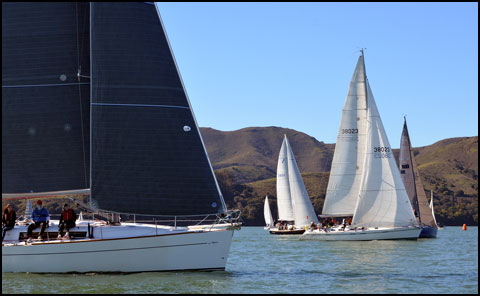 A start in SYC's sunny Sunday race.
©2016 Roxanne Fairbairn/www.roxshots.smugmug.com
The first leg to Day Mark #2, which crossed the ebb coming out of Raccoon Strait, saw boats split between an easterly course toward Belvedere and a westerly course toward the Sausalito sewer plant. Boats going the sewer plant route appeared to have a slight edge as they rounded #2 to port and headed back out into San Francisco Bay and the Harding Rock buoy. The 4-knot ebb was kicking in big time, so most boats actually headed for Yerba Buena instead of Harding, but still were swept below Harding when they arrived there. Sailing upstream against the current with the wind speed in the high single digits was slow, especially for the smaller boats that arrived late.
Boats inched their way up to and around the Harding buoy, which had a 4-knot wake streaming toward the Golden Gate Bridge. Once around the mark, sailing back to the finish line west of Little Harding was swift, with the current pushing boats down as they tried to sail up. The large spinnaker boats finished the 3.5-mile course in just under an hour, but the Cal 20s struggled for nearly two and a half hours. Twenty-one out of the 22 starters managed to finish the race.
At the clubhouse hot chili awaited the crews, along with multiple TV screens tuned to the Super Bowl. One happy racer commented, "I don't know which is hotter, this chili or Peyton Manning."
— Pat Broderick
The series will conclude on March 6. For standings and more info, see www.sausalitoyachtclub.org.