The 2016 Corinthian Yacht Club Midwinters wrapped up with a typical 'midwinter' weekend: two days, two completely different wind scenarios and lots of afternoon 3.9-ebb current to make racing even more interesting.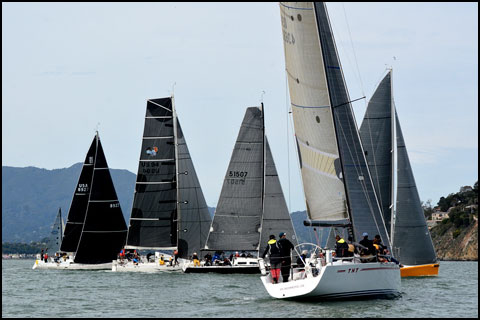 The PHRF 1 division on Saturday. ©2016 Roxanne Fairbairn/www.roxshots.smugmug.com
Saturday's race got underway at noon with a northeasterly wind blowing gently through Raccoon Strait along with the building ebb which peaked at 14:20. The CYC race committee selected a course for all boats except the Cal 20s that sailed directly into Raccoon to Southampton Shoal, back to a temporary mark at Yellow Bluff and a beat across to the finish line just west of Angel Island. It was only a short distance from the start line to the red buoy at Point Stuart, a distance soon clogged with medium and small boats struggling against the current and being whisked back toward the start line when they poked their bows out into the Strait. One by one boats managed to escape the current to begin working their way up the Angel Island waterfront, trying to get relief from the building ebb.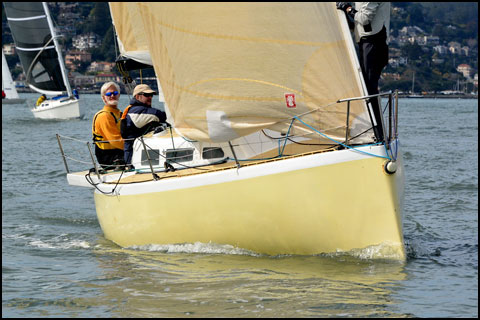 Gordie Nash's Arcadia in Saturday's light air. ©2016 Roxanne Fairbairn/www.roxshots.smugmug.com
Many of the large boats opted to head across toward Tiburon before turning up into the Strait, braving the current head on. Eventually many of the smaller boats began crabbing their way across to join their larger brothers. The wind continued to blow straight down Raccoon, but began to wane as the afternoon wore on. Most boats eventually made it to Southampton and managed to round the ugly looking pile of concrete but fell prey to the ebb as they sailed back toward Raccoon Strait, being swept south of the entrance and then being trapped in the swirling counter currents near the Immigration Station on Angel Island.
It paid to be big and fast. The boats that arrived at Southampton first enjoyed less ebb on their way back to Raccoon, while the smaller, later-arriving boats faced the increasing ebb. John Clauser's 1D48 Bodacious+ finished the 12-mile course in 1:30:26. Many other boats with low PHRF ratings finished in around two hours.
Among the slower boats, none finished in the Non-Spinnaker 2, PHRF 142+, IOD, or Cal 20 divisions. The SF 30s managed two out six and PHRF 4 three out of six. Other slower divisions showed similar results.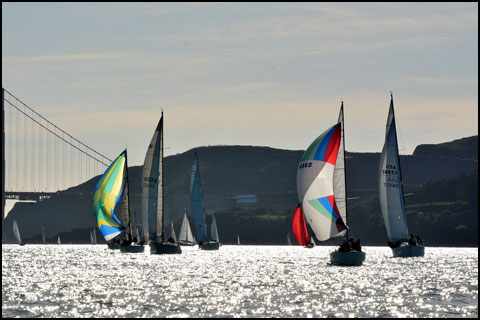 A reach, some with spinnakers and some without. ©2016 Roxanne Fairbairn/www.roxshots.smugmug.com
Sunday's race was postponed while the RC waited for the promised westerly to fill in, which it did, right on schedule according to what the race committee called "several high-price forecasts." The RC selected a course from the start near Little Harding to a temporary mark at Yellow Bluff, then a long reach/run down to YRA #8, a long beat back to Yellow Bluff, followed by a short reach/run to Harding Rock and a short reach against the ebb to the finish line.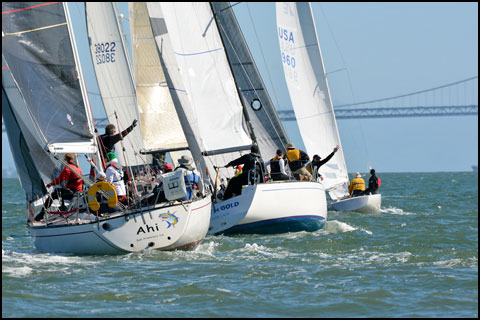 Ahi, Heart of Gold and Magic at the start on Sunday. ©2016 Roxanne Fairbairn/www.roxshots.smugmug.com
While there were many DNCs for the final day of the two-weekend event, almost all boats finished the 10.5-mile course. The west wind held throughout the afternoon, providing exciting sailing for those boats that showed up to race. Another 3.9-knot ebb, this one peaking at 15:06, provided a challenge going upwind toward YRA #8 but an exciting romp all the way back to Yellow Bluff.
Richard Courcier's Farr 36 Wicked Sister showed the way, finishing in 1:23:12, with many other speedy boats finishing in under 1:30. The Cal 20s sailed a shorter course, with seven out of eight finishing.
After Sunday's racing, awards were presented in CYC's grand ballroom to the cheers of competitors buoyed by several tanks of free beer. Complete results are at the CYC website, www.cyc.org.
— Pat Broderick