Forty-two boats (about 77%) of the fleet came out to play on the Saturday of a three-day weekend. (Do we surmise that the remaining 23% were skiing? Hmmmm. We do know that one missing contestant didn't go skiing, because instead he was stuck in Alameda unable to launch due to a broken crane.)
At the appointed time of the start, the temperature was a medium 60ish, the sun was shining and the wind was…………..not. However, eventually the wind gods took pity and graced the Berkeley Circle with about 5-8 knots of a westerly. And, thus, after 'only' 1 hour and 40 minutes, the seven divisions glided around a 4-mile windward/leeward course taking 1 to 1.75 hours to complete.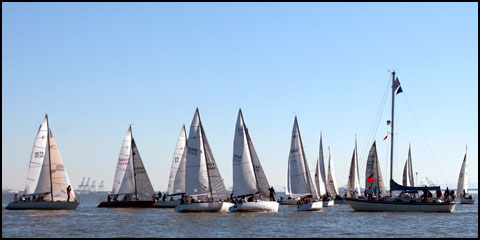 Saturday's Express 27 start. ©2017 norcalsailing.com

We'll need to wait for the last of this series (to be sailed on the weekend of February 11-12) to be confident of who gets the first-place pickle dishes in some of the divisions. There are close contests in Division A (only 1 point separates first place between Stewball, Bob Harford's Express 37 and Advantage 3, Pat Benedict's J/105; Division B (only 2 points are between Yankee Air Pirate, Don Newman's Olson 30 and Special Edition, Mike DeVries' Wilderness 30+; and Division D (there are just 2 points between Slight Disorder, Carmen Maio's Moore 24 and Phantom, John Gulliford's J/24. In the remaining four divisions the first-place positions appear to be more secure.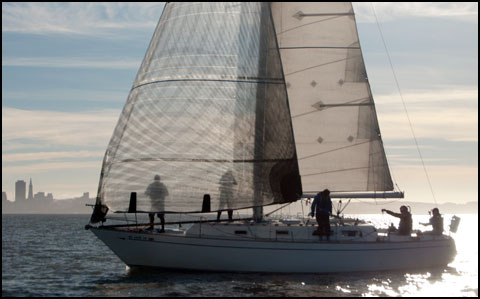 Bob Walden's Cal 39 Sea Star was sporting a nice new Christmas present: a see-through light #1 genoa. ©2017 norcalsailing.com
Sunday saw a slightly smaller percent turnout than Saturday. Only 61% showed up. Were all the rest skiing or was it the weather prognostication? This Sunday gang had already lost their December 11th race to a zero wind day, and all the weather people were saying we were due for yet another bust on January 15.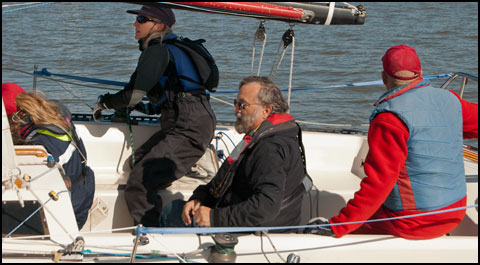 The Express 27s had one design divisions both days. This one is Ross Groelz' Eagle. ©2017 norcalsailing.com
I'm excited and pleased to report that all the weather folks were wrong! Not only was there some wind, it arrived early enough so that there was only a 25-minute postponement, there was enough (10-20 knots) to go the full 8 miles, and the direction stayed almost the same for the full two hours. Pretty slick!
There were challenges, however. There were lead changes during the race; two of the Express 27s managed to overtake the two Division 1 boats that had started five minutes in front of the Expresses; Starbuck, Stephen Buckingham's Black Soo retired citing that it would have been more useful to race with a jib that was in one piece; and Killer Hoot, the Macfies' borrowed Olson 30 Killer Rabbit with Hoot's main opted to retire and not chance breaking things on the borrowed boat.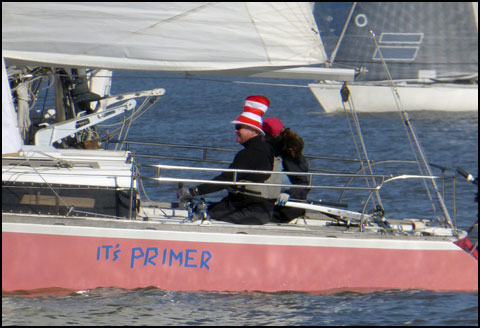 Normally red, Starbuck is going through a transition. ©2017 norcalsailing.com
Cumulative results going into the last race on February 12 show that for many divisions places could change. The Singlehanders are looking at a tie for first between Bandicoot, Al Germain's Wyliecat 30 and Tijd, Dirk Husselman's Beneteau First 30JK.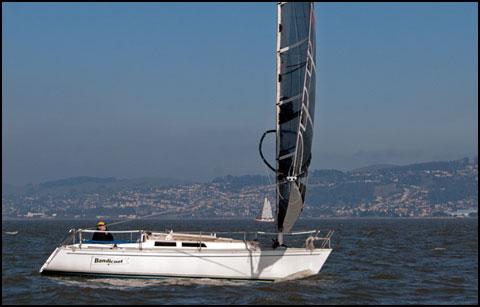 Bandicoot, on one of two runs Sunday, which includes a doublehanded and a singlehanded division. ©2017 norcalsailing.com
Results and standings are posted at www.berkeleyyc.org/racing.
— Bobbi Tosse, BYC Race Committee