To paraphrase a couple of songs, there was carnage to the right of me and carnage to the left. The Delta Ditch Run returned to its usual sunny, downwind sail from Richmond to Stockton after a couple of 'bad' years (particularly last year's rainy beat), but with a vengeance. The wind gusts were predicted for 25 knots, but they actually topped out around 40. In Suisun Bay, a lot of very competitive sailors thought better of flying their spinnakers and went to white sails, despite prevailing winds aft of the beam. Even some of those were rounding up in the reachier places.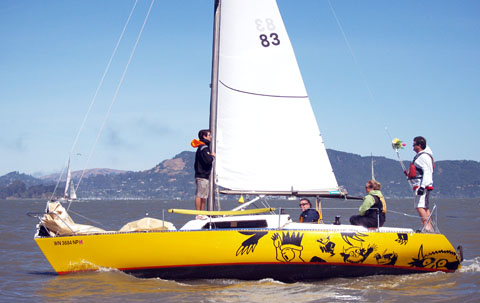 Stephanie and Andy Schwenk's Santa Cruz 27 Wild Rumpus came all the way from Anacortes, Washington. They won their division. Andy said, "Well, now I can finally say I've done the Ditch Run." Their Nationals are coming up at Richmond YC at the end of the month. ©2012 norcalsailing.com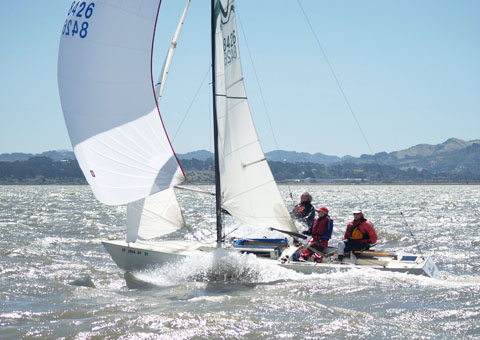 Kim Desenberg's Wylie Wabbit Mr. McGregor, flying through San Pablo Bay in the morning. ©2012 norcalsailing.com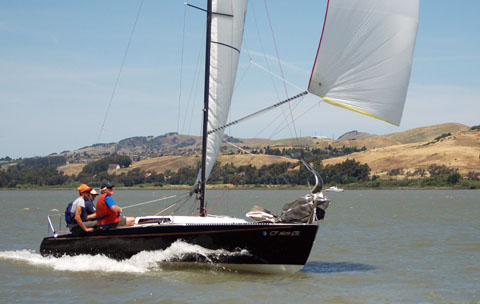 Matt Dini's Moore 24 Penguin from Santa Cruz, kicking up a wake near Benicia. ©2012 norcalsailing.com
We heard of at least four dismastings, most notably the Wyliecat 30 Uno, which was using her spinnaker and dropped her mast off Port Chicago. The Delmases' Alerion Express 38 Another Girl stood by her and called the race committee. Uno anchored for a while until her crew had her tidied up enough to motor back to Benicia. Also dismasted were a Wylie Wabbit, an Ultimate 20, and a Melges 20.

Uno was a sad sight. ©2012 norcalsailing.com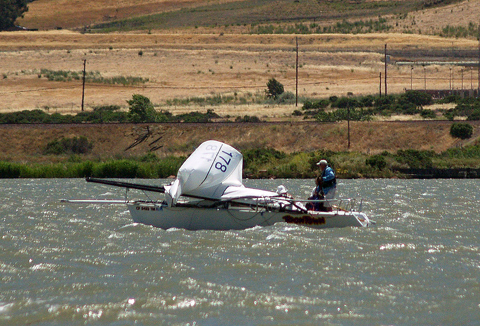 Michael Eisenberg's Ultimate 20 Toon Town dismasted in Suisun Bay. ©2012 norcalsailing.com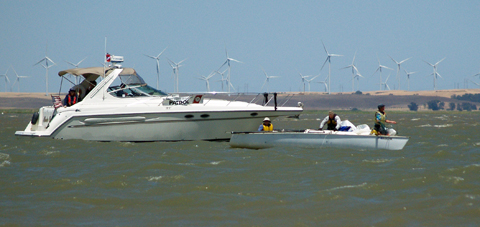 Dead Wabbit, near Antioch. This is James Malloy's Bare Wabbit. ©2012 norcalsailing.com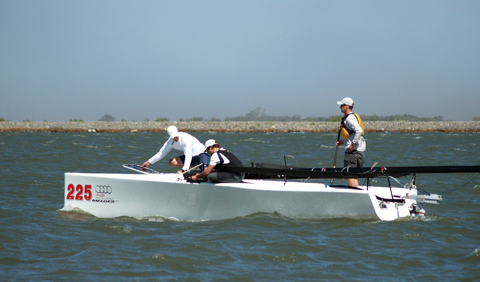 Another one bites the dust; this time it's a Melges 20 beyond the Antioch Bridge. ©2012 norcalsailing.com
The Sonoma 30 Arc Angel (seen in the photo at the top of the page) tore out a side stay and its chain plate. They stopped in Antioch for fuel and then motored on home to Stockton. At least two man overboard calls came over the race's VHF working channel, one from the F-27 trimaran Papillon, whose crew was recovered; they resumed racing. Another MOB became separated from the boat, "in the vicinity of a capsized catamaran." (For more on the MOBs, see our follow-up report.)
Whatever the wind conditions, a few boats in this race manage to run aground every year. A Challenger 24, Captain Midnight, sailed by an all-junior crew, finished an hour after the deadline at 10:00 on Sunday, after running aground – and running up the wrong river, the Sacramento. You might imagine how grateful the teenagers onboard were to finally reach the club. See our follow-up report for more about them.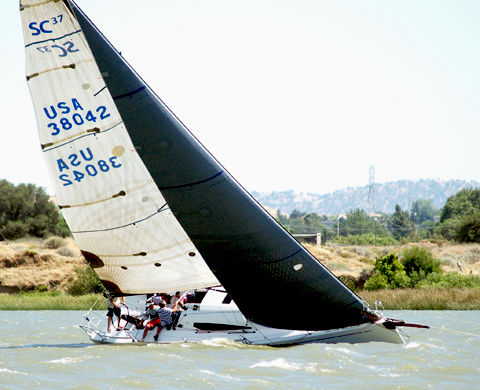 The Santa Cruz 37 Tiburon ran aground at West Island before the Antioch Bridge at the end of New York Slough. They tried to kedge off with their anchor. ©2012 norcalsailing.com

Lester Robinson's Moore 24 Legs from Lake Tahoe rounds up… Photos by Stephen Buckingham ©2012 norcalsailing.com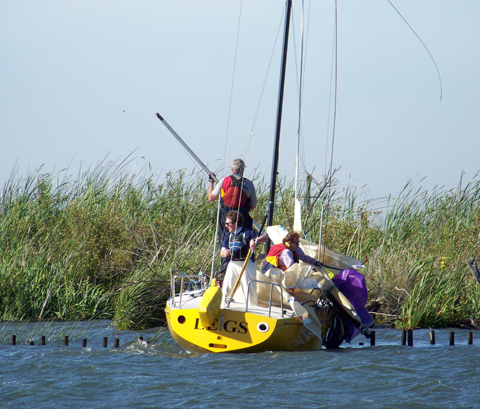 …and eventually ended up in some pilings. They were able to get free and resume sailing. Photo by Stephen Buckingham ©2012 norcalsailing.com

Craig Smith's Santa Cruz 27 from Santa Cruz, Don Quixote, looked good running along the San Joaquin River. ©2012 norcalsailing.com
In a typical Ditch Run, the breeze dies down as the sun sets behind the racers. This year however, the wind continued to howl well into the night. The wind blew so hard at Stockton Sailing Club that it scattered some of the paperwork, perhaps delaying the final results. As of midday on Monday, when we uploaded this report, results had not been posted. We have since made some minor corrections to this story; we've also put together a follow-up report, and a photo gallery and slideshow. Results are now posted at www.stocktonsc.org.