Results have been posted for the Delta Ditch Run, and we have some more information to follow up yesterday's report:
Congratulations go out to Sarah Deeds and the crew of the Wylie Wabbit Wild Bunch 2 for correcting out to first place overall. They finished at 16:41:25, for an elapsed time of 5:56:25 and corrected time of 6:01:43. Sid Gorham's Melges 20 Funner was first monohull to finish at 16:35:27 and corrected out to third place. Tim Russell's Wabbit Weckless placed second, and Kim Desenberg's Wabbit Mr. McGregor placed fourth.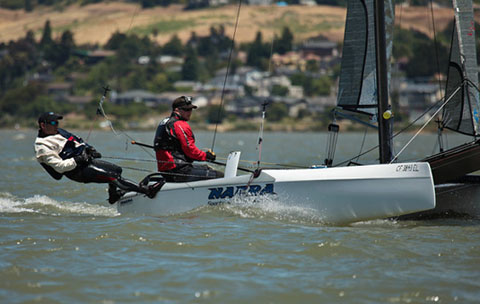 Curved Wood, the first boat in, smoked the course in four hours and 18 mintues. ©2012 SurfCityRacing.org
Eric Willis's Nacra F-20C Curved Wood, sailing with Bruce Edwards, finished ahead of the top monohulls at 15:18:11. The course record holder, Rocket 88, finished second at 15:32:39. (The record was set in windy 1998, to which this running is being compared.) Vaughn Seifers' Moore 24 Flying Tiger was the first to finish their division. Two Moores, Mooretician and Legs, did not finish, but the other 16 did.
Patrick Lewis, of Santa Cruz Sails, has the details on the MOBs: "Papillon's MOB was picked up by Ray Lotto's Express 27 El Raton and finished the race onboard the Express (ahead of his own boat!)" All 11 Express 27s finished – and El Raton won their division, placing fifth overall, after receiving 25 minutes of redress for stopping to help the crew overboard. Papillon finished last in the Multi 2 division.
"Another MOB," continues Patrick, "off a small cat, was picked up by Wolfgang Stehr's Express 27 Summer Palace. The MOB's boat had sailed away from him and flipped. A Richmond YC tender helped return the MOB to the cat." Summer Palace finished last in the Express 27 fleet.
The Another Girl crew, which had stood by the dismasted Uno and assisted with radio communication, dropped out of the race.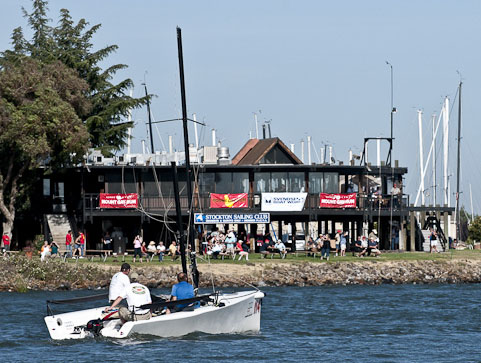 Two Melges 20s dismasted, bringing the total (that we know of) to five. This one broke off the top of their mast, and motored to Stockton Sailing Club, where they'd left their trailer. ©2012 Erik Simonson/www.pressure-drop.us
Regarding the late-finishing Challenger, Captain Midnight, Adam Helms wrote, "I am the skipper of the Challenger 24 that raced the Delta Ditch Run. The boat does not belong to the sailing club. I own it. There were two juniors from Santa Cruz YC that were my crew, Emma Drejes and Mara Eckert, and we had one other junior from Stockton, Chris Clark. We are all 16 years old." Although they ran aground near the Moth Ball Fleet in Suisun Bay for eight hours and then took a wrong turn into the Sacramento River, they had a great learning experience. "Even though we had some difficulties, I am extremely proud of my crew," said Adam. "They did an outstanding job, and they never lost their motivation." They were the first juniors to ever attempt the race, and Adam is the youngest skipper to ever race. "We will be attempting the race next year. I want people to know that the all-junior crew can keep up with the big guys."
See results at www.stocktonsc.org. Read our previous report here, and our photo gallery with slideshow.
SSC started the Ditch Run in 1991 as a feeder for their South Tower Race; since then, the DDR has grown immensely while the South Tower has dwindled to near extinction. Nevertheless, we think the South Tower must be the most challenging inshore race on the West Coast. SSC says on their Web site, "The Stockton Sailing Club invites you to take on the challenge of this 140-mile adventure through the San Joaquin Delta to the Golden Gate and back. (There is only one mark.)" This year's South Tower is on June 22.
Mark your calendars now for the next Delta Ditch Run on June 8, 2013.