Santa Cruz native Morgan Larson was the talk of the town in Muscat, Oman, as he stepped in as skipper and won the first act in the Extreme Sailing Series aboard Oman Air. "This was really hard racing and any team could have won going into those last couple of races, and we were just lucky they went well for us," Larson remarked. But Bay Area sailors know all too well that the America's Cup vet has the ability to win no matter what kind of boat he is sailing. Oh, and it helped to have Olympic Tornado sailor Charlie Ogletree and Samba Pa Ti crew member Max Bulger onboard. Act 2 is scheduled for April 17-20 in Qindao, China. Their only Western Hemisphere stop is in Brazil. See www.extremesailingseries.com.
Speaking of Qindao, the Clipper Round the World Race departed there this morning on Leg 6 of their circumnavigation, bound for Oakland, California. Yes, that Oakland. The race seems to be in stealth mode for the Bay Area media but the boats are heading for Hardly Strictly Sail Pacific in Jack London Square. Hopefully they can show off the talents of everyday people (like you or me) racing around the world in a highly competitive fleet of matched boats. See www.clipperroundtheworld.com.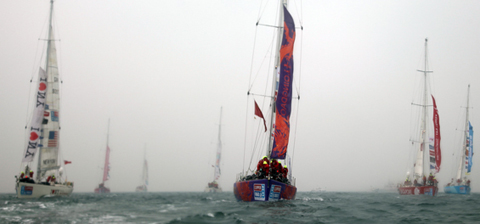 Bad weather, including the fog you see here, delayed the start of Leg 6, which had been scheduled for Sunday. ©2012 onEdition
America's Cup Strikes a Deal with NBC
Richard Worth and the America's Cup Event Authority announced that NBC will broadcast the AC34 from San Francisco. The first two days of racing on September 7-8 will be aired across the United States on NBC, with the remaining races cablecast on NBC Sports Network. Your favorite cable company Comcast will run local stories on Comcast SportsNet throughout California.