The ISAF Worlds in Perth Australia are almost a done deal, and the top Americans and Olympic hopefuls are Paige Railey in the Laser Radial, who came in third, her brother Zach in the Finn, who finished 9th. Erin Maxwell and Isabelle Kingsolving have an uphill battle coming in 27th place after two races in the 470, while on the men's 470 side Stuart Mcnay and Graham Biehl came in lucky 13th. In the always hard-to-race Star boat Mark Mendelblatt and Brian Faith are in second, beating the very good Brazilian team of Robert Scheidt and Bruno Prada (Brits Iain Percy and Andrew Simpson are in the lead). Erik Storck and Trevor Moore are in 17th in the 49ers after their first day of racing. Charlie Buckingham is in a respectable 8th in the Laser class. Anna Tunnicliffe is in second place in Group A after losing two races to France in the Women's Match Racing, which continues through the 18th.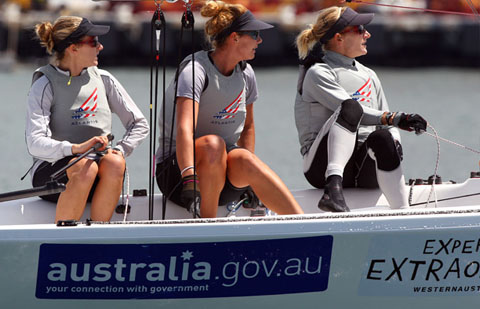 Marinite Genny Tulloch and crew are in 7th place in Group B. ©2011 Paul Kane
Paige Railey got her bronze medal by just one point. "It's a huge relief. I'm extremely happy to see all the hard work pay off," she said. The Laser Radial Medal Race sailors had winds of 8-13 knots, but the pressure constantly changed.
Some drama occurred in the Finn fleet, when Brit Ben Ainslie jumped a media boat that twice got in his way. Ben finished the Worlds with two 'DGMs' (disqualification under rule 69.1). His disqualification paved the way for countryman Giles Scott of to win the class.
See www.perth2011.com for more.
US Sailing has released the shortlist of nominees for the 2011 Rolex Yachtsman and Yachtswoman of the Year. Northern California is well represented, including IKA Kite Course Racing World Champion Johnny Heineken of Larkspur and Finn U.S. National Champion Zach Railey of Clearwater, FL, but sailing for St. Francis YC. Female nominees include 29erXX North American Champion Kristen Lane of Tiburon and Zach's sister Paige Railey, also a StFYC member, who just won bronze for the Laser Radial at the ISAF Worlds (see above).
See http://about.ussailing.org/Awards/Rolex.htm.
So what's the closest finish you've seen? On the last leg of this year's Solitaire du Figaro in France the first four boats crossed the line in Dieppe in August within a little more than 30 seconds. And this was after 437 miles. And these are solo sailors in the one design Figaro class. And of course all four were French…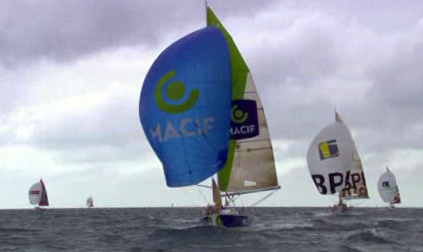 The end of a short buoy race? No, these guys have been racing for three days. ©2011 Le Figaro - La Solitaire/www.lasolitaire.com
Click here to see the video of the finish and read about it.