Pat Broderick, Michael Andrews and Gordie Nash sailed to Oahu in this summer's Pacific Cup aboard Pat's Wyliecat 30 Nancy (named for Pat's wife). Upon returning to the mainland, Pat sent us these snapshots of their race.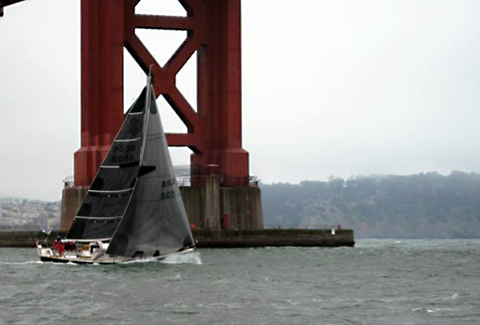 Jim Quanci's Cal 40 Green Buffalo was Nancy's close competition. Nancy won their division; Green Buffalo was third, with the J/30 Friction Loss between them. ©2010 Pat Broderick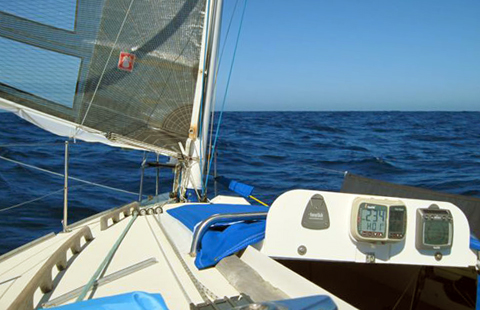 Pacific Pacific. ©2010 Pat Broderick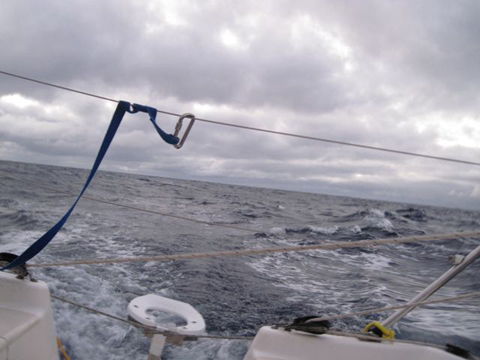 Rougher Pacific, with head on the stern. ©2010 Pat Broderick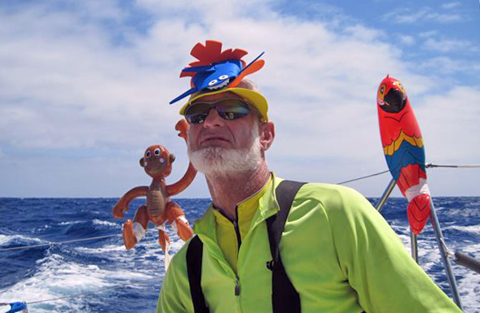 Gordie Nash at the halfway mark, with our version of "Trunk Monkey" and "Polly" on the pushpit. Both were later "sacrificed" to the Mainsheet God during a nighttime jibe. ©2010 Pat Broderick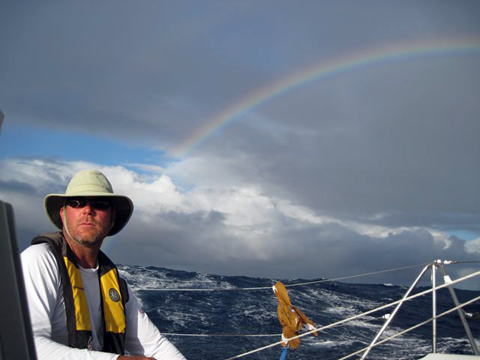 PacCup rainbow with Michael Andrews driving. The "late" Trunk Monkey hangs from the safety line. ©2010 Pat Broderick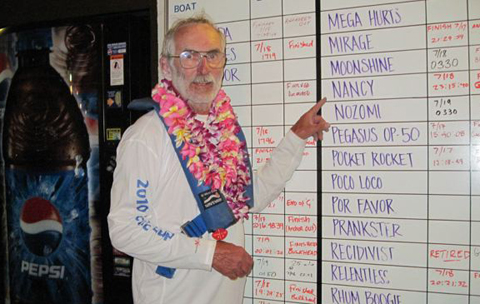 Pat at the leaderboard at the Kaneohe YC. ©2010 Pat Broderick
You might think we'd be all done with the Pacific Cup, but the latest newsletter announces the 'Pacific Cup Challenge' at the Richmond Riviera Regatta:
Dave Rasmussen, Commodore of Richmond Yacht Club, had an idea. The Sunday racing will be perfect for a Pac Cup reunion. Most of the Pac Cup boats are home now, and the long Sunday race will be perfect for the Pac Cup Fleet - in a venue where the fleet can keep each other in sight for most of the time!
Pac Cup racers will sail the Deep Water Course, and should state "PC" in addition to their yacht club affiliation on the entry form. There will be a separate start and trophies for Pac Cup boats. Pac Cup boats which sail on Saturday will be divided into the rest of the fleet according to PHRF rating. Pac Cup boats will race for the coveted "Nice Watch", "OK Watch", and "Watch in a Box" trophies.
All boats sailing the regatta are eligible for discounted tickets for the gala "Taste of Richmond" fundraiser party, but only during registration. Wear a lei so everyone knows you just got back from Hawaii. 100% of your ticket price is a donation!
Racing will feature windward/leeward courses Saturday and a Bay Tour race on Sunday, like the Big Boat Series. Every race boat on the Bay will find something to like about this regatta.
The Richmond Riviera Regatta and Taste of Richmond are fundraisers for four select charities based in the City of Richmond. Members of Richmond YC have decided to do something for the City of Richmond, and raise money for groups which are already doing good work. These charities are Rubicon Programs, the Bay Area Rescue Mission, the Richmond Emergency Food Pantry and YES!, Youth Enrichment Strategies.
Visit www.richriv.com for details and to register.
- Pacific Cup Yacht Club