Here's a visit with three beer can series from diverse corners of the Bay Area over the past couple of weeks. Pictured at the top of the page, Corinthian's Friday the 13th race featured pretty typical CYC conditions: mellow wind at the start and finish in Belvedere Cove, lots of wind in the Slot, and a conveyor belt ebb, especially in Raccoon Strait. For results, see www.cyc.org. CYC has two more races left, August 20 and 27.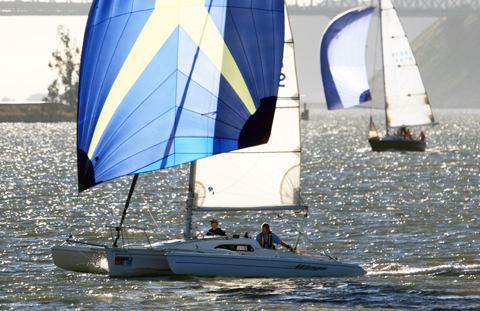 Bill Cook's Wings on a downwind leg at a Benicia YC Thursday night race. ©2010 SlackwaterSF
Next up: Benicia has been the place to go for sun this summer.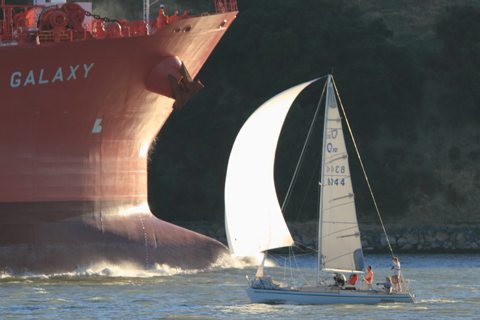 Commercial traffic in Carquinez Strait is an obstacle on the race course. ©2010 SlackwaterSF
For more photos of Benicia YC beer can racing, see this gallery from July 29, and go to www.beniciayachtclub.com for results. Benicia's series continues through the end of September.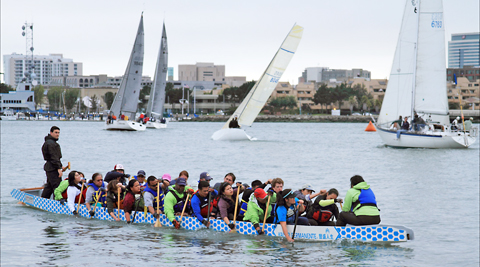 How many kids does it take to row a dragon? ©2010 SlackwaterSF
Forty-plus boats are registered to race in the Oakland YC series, and a
lot of boats were out under the fog in the Alameda Estuary on August 11.
The larger boats include a J/124, a couple of Express 37s and the 1D35 pictured below, with a big mainsail. The smallest boat was a singlehander on a Mercury racing in the non-spinnaker division. Three multihulls were out racing: Sunbow3, Triple Play and Rice Rocket.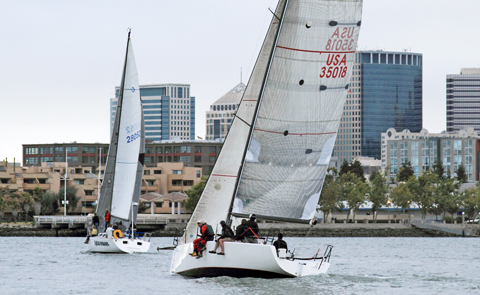 1D35 Dark and Stormy. ©2010 SlackwaterSF
For results and more, go to http://sites.google.com/site/oycracing/Home. They still have few races left, and you can still enter. See this gallery for more photos.