On New Year's Day we found Skip Allan in the driveway of his house in Capitola taking advantage of the sunny, warm weather to paint non-skid on the decks of his new creation.
Olympic sailor Robbie Haines called a couple of months ago and asked Skip what he was up to. "I'm building a cat," said Skip. "Is it for the America's Cup?" asked Robbie. Enjoying the joke, Skip replied, "Robbie, I'm sorry, I can't tell you. Any rumors about a five-part wing mast simply aren't true."
What Skip has been building since October 2010, from scratch, out of plywood, and is a Howard Spruit/Skip Allan-designed Frogcat 22, a trailerable, ramp-launchable pocket cruiser.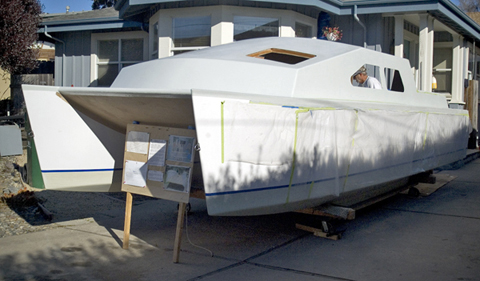 Work in progress, taking shape. ©2012 norcalsailing.com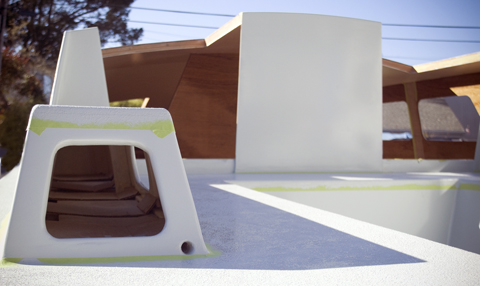 Detail looking forward from the stern. ©2012 norcalsailing.com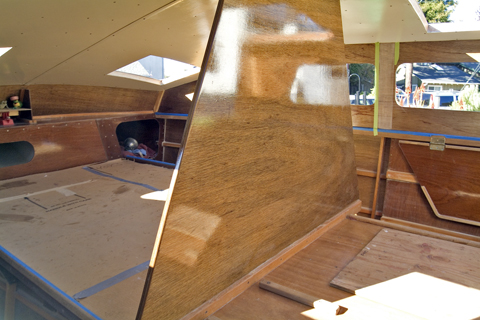 The interior, looking forward. Marine Textile Engineer Synthia Petroka made a mattress for the queen bunk (screen left). ©2012 norcalsailing.com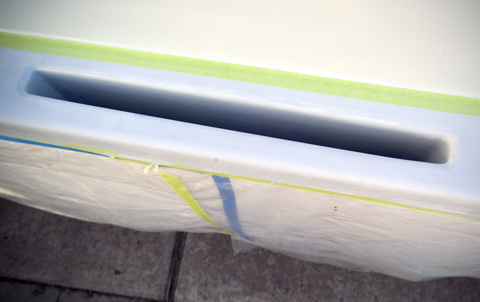 The daggerboard slot, on the starboard side. ©2012 norcalsailing.com
When asked when he plans to launch it, he said, "Two months ago!" The new anticipated launch is now sometime in the spring, in Point Richmond. The first real cruising grounds will be the Pacific Northwest. "With light winds and lots of beautiful anchorages for the shake down," he mentioned. For power, the boat uses a mast, boom and sails from a Hobie Cat, a Star Boat, a Moore 24 and a Rhodes 19. For auxiliary power, it uses a 6 hp Tohatsu 4-stroke that will go 6-8 knots and has an alternator. The one lee daggerboard will sit four feet in the water and is also made of plywood.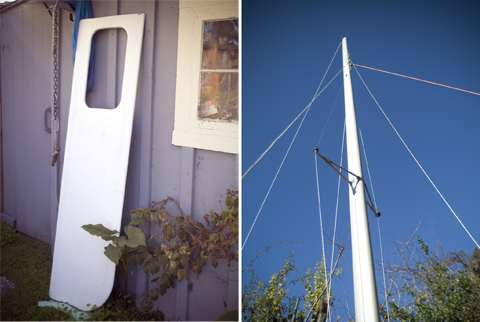 The daggerboard was surprisingly light, the rig is set up on a deck in the backyard. ©2012 norcalsailing.com
Boat builder Dave Wahle gave him a small piece of carbon fiber. "I don't know where to stick it yet, but I'll be able say it's a composite boat."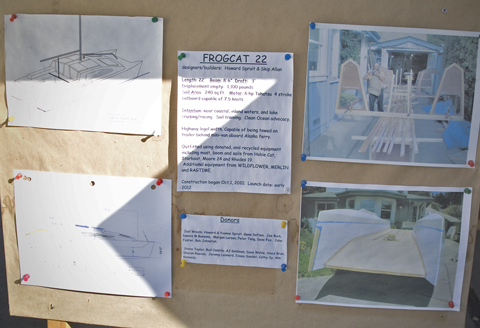 The sign, plans and photos explain the project to passersby. ©2012 norcalsailing.com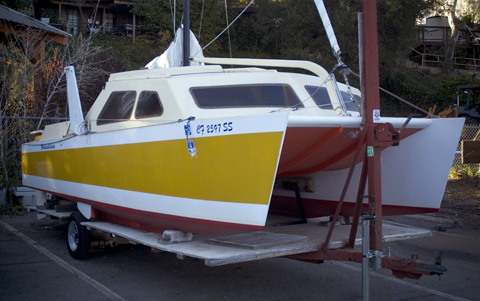 This pretty smaller sistership, Mokuakalana, is stored at Santa Cruz Harbor. Note the raised daggerboard on the left. ©2012 norcalsailing.com
Skip's sailing resume is too long to list here, but you can see some of his recent adventures in our coverage of the 2008 Singlehanded TransPac, which he won.