Of the last three boats remaining on the race course when we wrapped up our reports last night, Darwind, a 27-ft Cal T/2, finished at 22:12:21. Toucan, an Albin Vega 27, finished at 23:39:39, making skiper Bobby Arthurs the last singlehander to finish, as Libations Too dropped out before midnight.
Regarding our log entry "1609: Boat sighted from the Farallones webcam! www.calacademy.org/webcams/farallones (but don't all look at once). Wind is at about 10 knots there," Greg Nelsen of Outsider writes:
"I read your wind reports from the Farallones and they are way off. When I rounded at 3-3:30 I had a reef in. I was still on my ear. When I shook it out around the island I started doing 9-11 knots with no kite. No way it was ever 10 knots of wind out there. Curious to see what folks saw on their wind instruments."
The wind speed we reported at the Farallones was taken from the instrument at the top of SE Farallon Island. During the time we were looking at it, it never read more than about 12 mph, or 10+ knots. The instrument could be miscalibrated, or the wind could accelerate as it whips around the island.
"After a few miles rest from the beat to the islands I got the spinnaker up and did sustained 13-17 knots the whole way in." Outsider was one of the very few boats which finished under spinnaker.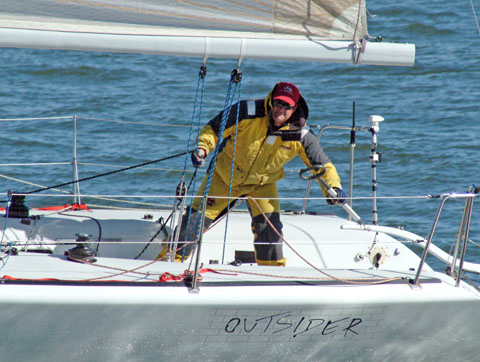 Greg Nelsen on Outsider, an Azzura 310 in the Sportboat Division, with his hands full at the start. ©2010 norcalsailing.com
If you'd like to comment on your race, please send us an email. Preliminary results are temporarily available at http://jibeset.net/racedoc/JACKY_T005181293r1.html. Final results will be available later at www.sfbaysss.org. The Trophy Meeting will be held on Wednesday, June 2, at 1900 at Oakland YC in Alameda.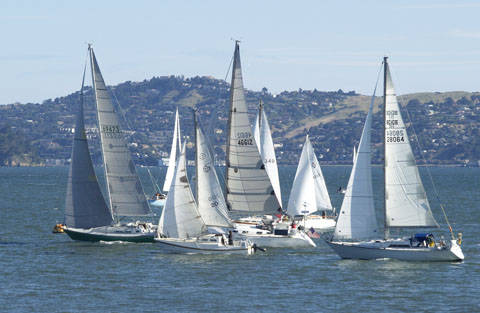 The Non-Spinnaker start had the most wind and the tightest grouping. ©2010 norcalsailing.com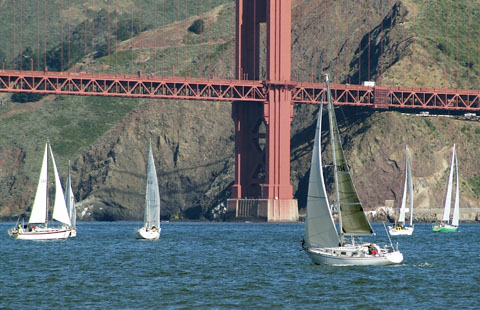 Emerald followed the others into a hole. ©2010 norcalsailing.com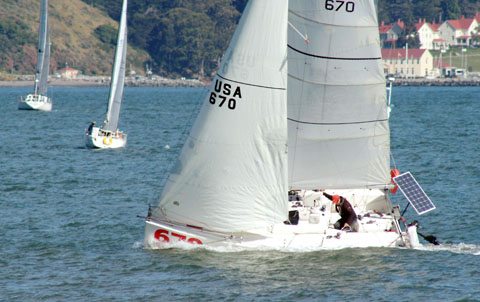 Poco Loco, a Mini, late for his start. ©2010 norcalsailing.com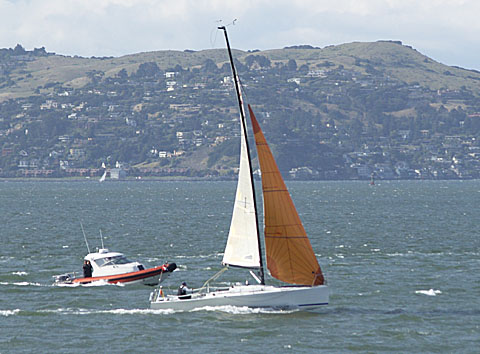 The Farr 30 Trunk Monkey crosses the finish line first. 'Trunk Monkey' is based on a Suburban Auto ad campaign in which the 'monkey' (a chimp) was a dealer-installed option. ©2010 norcalsailing.com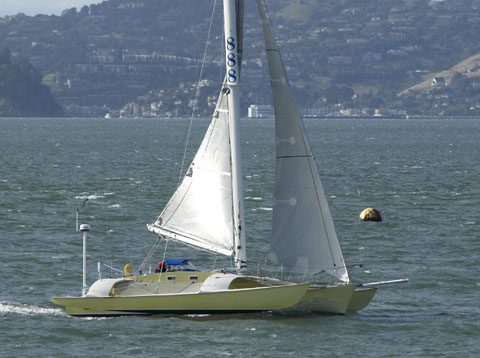 The big yellow tri finishes second. ©2010 norcalsailing.com
For photos by Charlie Bergstedt, see http://cbergstedt.myphotoalbum.com/albums.php. Erik Simonson took photos of the starters from the Golden Gate Bridge.