Sausalito Yacht Club's second Spring Sunset Race presented a sharp contrast to its first Twin Island Race two weeks previously. The Twin Island Race emphasized young sailors and the future, while the Spring Sunset Race featured one of the oldest racing sailboats on San Francisco Bay, a piece of almost 100-year old history.
Martin Koffel's 1922 Bird Boat Kookaburra came out to show a bunch of younger whippersnapper boats how to sail in 'Bird weather', placing first in the small-boat non-spinnaker division. At 95 years old, Kookaburra is one of the oldest boats still racing. As the slogan says, "Nothing Sails Like a Bird" and Koffel's boat proved that.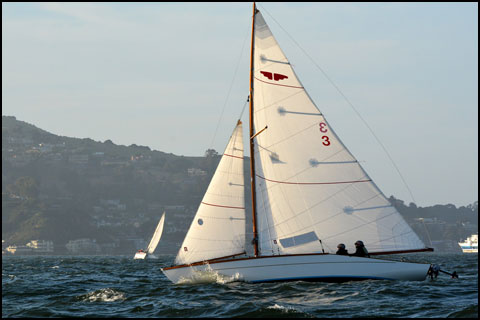 Kookaburra, looking quite fetching. ©2017 Roxanne Fairbairn / www.roxshots.smugmug.com
Bird Boats date from 1919 when the Pacific Inter-Club Yacht Association (PICYA) decided to design an inter-club 'S' class so all six existing yacht clubs could participate in one-design racing. Although credited to designer John Alden (design #157), locals including Sausalitans J. Herb Madden and Fred Brewer drew the original lines. Sam Crocker drafted the plans and Osprey (#1) was built by Madden & Lewis in 1922. Kookaburra was hull #3 out of the Madden & Lewis yard. Birds, who got their name because they "sailed like birds" have been flying around SF Bay for 95 years.
And 'Bird weather' it was. Wind ranged in the mid-20 to 30-knot range according to Nick Sands, sailing his Saber 402 Escapade in the spinnaker division. The confused currents created by the runoff-enhanced ebb and early flood created ocean-like waves, especially at the bottom of the spinnaker course which used YRA #8 for the leeward mark.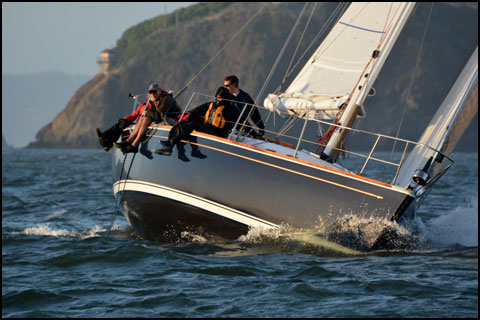 Escapade, with reefed main, sails past Angel Island. ©2017 Roxanne Fairbairn / www.roxshots.smugmug.com
Back at the club most skippers and crew used "wet" to describe conditions for the race. On Pat Broderick's Wylecat Nancy several crewmembers retreated to the cabin on the long windward leg from YRA #8 to the finish line near Little Harding Rock. Nancy's bow was under water several times, especially passing Point Blunt (Angel Island's southern point) on the beat home.
While the spinnaker division plowed its way down to YRA #8 and back, the two non-spinnaker divisions romped around a windward/leeward course using drop marks at Yellow Bluff (Sausalito) and Point Knox (Angel Island's western point).
Ron Anderson in his J/105 Streaker, eked out an 18-second win over Steven Gordon's J/88 Inconceivable in the spinnaker division, with Neil Gibbs' J/105 Nimbus coming in third.
Scott Lamson's J/105 Mamaluc won the large-boat non-spinnaker division. Bob Bloom's J/35 Jarlen finished second, and Greg Arkus' Tartan Ten Abba-Zabba finished third.
While Kookaburra was the oldest and won the small-boat non-spinnaker division, she sailed against a fleet of classic SF Bay boats including Philip Hyndman's Cal 29-1 Serenity which finished second and Stephen Spoja's Yankee 30 Maxine, which finished third.

Full results are at the SYC website at www.sausalitoyachtclub.org. The next Spring Sunset Race is scheduled for Tuesday, May 23.
— Pat Broderick