Anne Schreiber grew up sailing on Lake St. Clair, near Detroit, Michigan, with her dad on his Cal 25 Annie Mayme. "The combination of meeting lots of boys and then regularly beating them in races instilled a lifelong love of both racing and the awards party afterward," she said. "I became a sailmaker while I was in high school, and in 1976 I moved to California to break into the sailing scene here — which was not easy, being a 19-year-old girl on my own. Finally in the 1980s I found a sailing family in the J/35 fleet."
Mark discovered sailing at age 37. "He always loved the water but got seasick as a child, so he stuck to waterskiing," writes Anne. "In 1987 he took the leap and bought a cruising Ericson 34 with a partner. He immediately started reading up on how to make the boat go faster, and before long he was more interested in racing than cruising. He sold his share to his partner and went shopping for a faster boat. His first racing boat was a B25 named Zilla. And he has never gotten seasick sailing as an adult."

The couple met in 1997 at the Big Boat Series. "Mark had just bought the CM1200 Raven on the East Coast, and it was his first regatta on the Bay. I was supposed to sail on a J/35 but the owner got sick and the boat wasn't racing. Desperate not to miss out, I drove to St. Francis Yacht Club and was told that there was a boat that needed crew, talk to Jeff Thorpe. Jeff put me in the pit. I could not believe how cool the boat was. In fact, I joke that "It was love at first sight — with the boat!" Actually, because I was in the pit and looking forward all day, I didn't get a good look at Mark, and the next day when I came to the boat, I didn't know who the owner was. After years on the J/35s I was ready for a change, so after the BBS ended I told Jeff and Mark that I was interested in being on the crew, and that's how Mark and I slowly got to know each other. For the next year, we only saw each other on races. After a year, we began to realize that we liked each other. And the rest is history."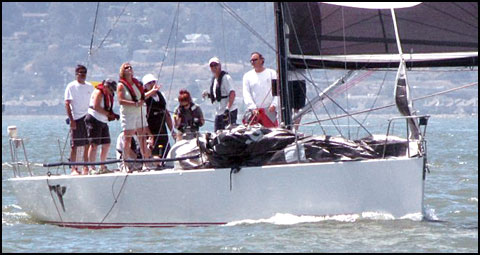 The CM1200 Raven. ©2009 Erik Simonson/www.pressure-drop.us
"We own two and a half boats together now: the SC37 Wildcard, the Sabre 34 Hat Trick, and we are partners with Peter Cameron in the J/70 Prime Number. We bought the Sabre powerboat so that we would have a dry, comfortable place to sleep after races, and it has been wonderful. We live in Nevada, and we have a lot more fun on our weekends in the Bay Area now that we don't have to haul sails around just to find a place to sit in the boat. And I could take all the cooking and sandwich making stuff off the boat, which makes it lighter and makes the tactician happier."

Anne's philosophy is that there is only one skipper. "On our boat that's Mark. I have never had a big need to be the driver, although I can drive pretty well under certain conditions. I just love trimming sails. Now that I'm getting older and my rotator cuffs are getting cranky, I am happy to run the pit and let others have the fun of trimming.
They also have off-the-water jobs. "Mark's job is boat maintenance, and one of the things I have always liked is that he keeps the boat in tip-top shape. (Except maybe checking the fuel level, but we won't talk about that.) My job is recruiting, feeding and watering the crew, and organizing the sails. We need at least seven people on Wildcard, preferably nine if there's breeze, and if you want to get good crew you have to give them fun jobs and provide good sandwiches and beer.
Mark and Anne get along well while racing most of the time. "When we doublehand, we argue because we're used to having crew, and we're trying to make the boat go fast with only the two of us. We're still learning to take it less seriously. Sharing beers helps.
The couple is planning to sail in the Engineering Challenge Cup (ECC) regatta in Croatia this spring. "It's a cruiser's race started by a bunch of European engineers in which they all charter boats in different fabulous cruising grounds each year and race each other from port to port, party to party," explains Anne. "We were invited by the Italian skipper and crew that we sailed with when we lived in Abu Dhabi from 2011 to 2014.
"Locally, we're doing the fun races on Wildcard — Corinthian Midwinters, Big Daddy, Spinnaker Cup, Jazz Cup. We'll miss Vallejo because we'll be in Europe." They might do some Tahoe races on the J/70 this summer. "We were thinking of doing a Pacific Cup or Transpac, but our delivery experience last summer on Adrenaline kind of cured us of the need to cross an ocean. We're hoping to do the California Offshore Race Week, maybe next year.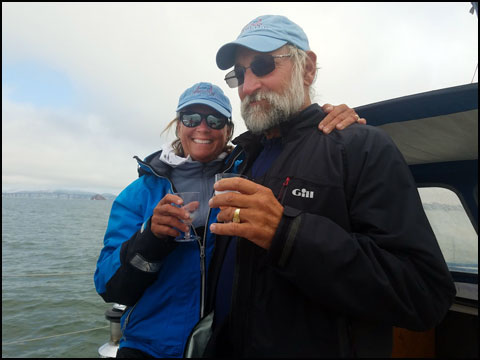 Mark and Anne aboard the Santa Cruz 50 Adrenalin, after sailing in the Gate in 2016. Photo Courtesay Anne Thomas
We wondered if they had any advice for lovelorn sailors. "My advice to men and women, as a single woman sailor for many years, is just go sailing. You might meet the love of your life, or maybe not. But at least you get to go sailing. Mark's favorite saying is, 'I found good crew, so I married her.' He's happy with his choice, because I never say 'no' to a new sail."