On two consecutive Sundays in October, El Toros were spotted frolicking in the waters of Richmond Yacht Club's harbor. Sunday the 2nd was the first day of the of the RYC junior program, which will run through March. The beginner El Toro and Opti sailors must pass the 'Guppy' tests.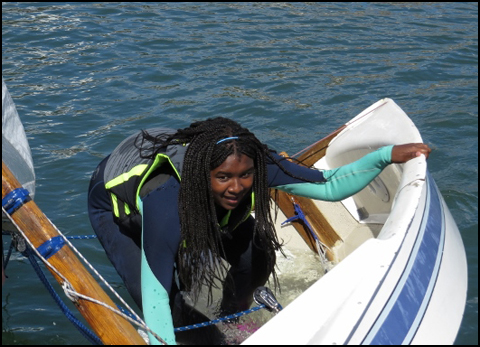 El Toros are relatively stable boats, so the first challenge is to capsize one without much wind. ©2016 RYC Photo
To pass, the juniors capsize their boat, swim around the stern, grab the daggerboard, right the boat, get inside, and bail it out. Then they jump in the water and swim from one side of the turning basin to the other. A hot shower and hot cocoa follow.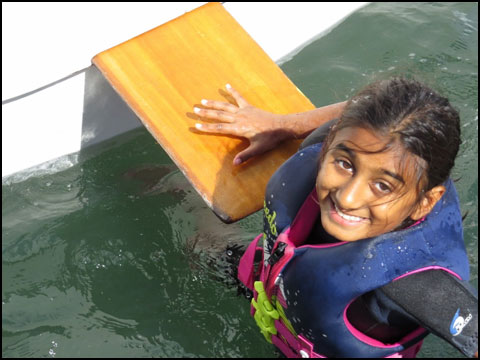 Now to use the daggerboard as a lever to right the boat. ©2016 RYC Photo
Typically, they get past the nerves and jitters, and build confidence. Often, they have so much fun that they get back in line and do it over (and over) again. The hard part is getting them out of the water.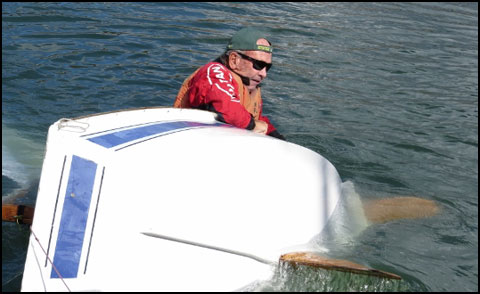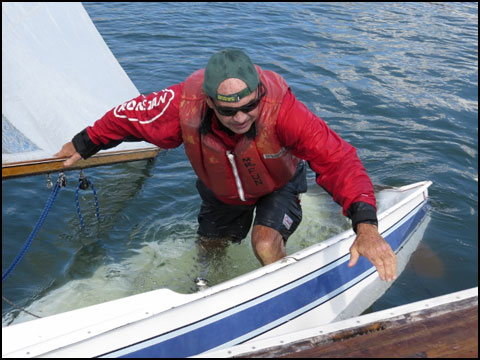 A junior program instructor since the 1980s, Dick 'Mr. Fun' Loomis shows how it's done. ©2016 RYC Photo

The following Sunday, October 9, the El Toro Seniors and advanced Juniors competed for prizes in the Stampede. Run continuously since 1947, the Stampede is RYC's oldest regatta.
While most of the races take place out at 'Parents' Point' in the Potrero Channel, some of them finish back at the turning basin, and one, the green bottle race, starts and finishes there. In that final race, the daggerboards must come up at the starting signal and stay there. Have you ever tried to sail upwind in an El Toro without a board down? There's a trick to it that not everyone mastered — the boats mostly want to go sideways, not forward.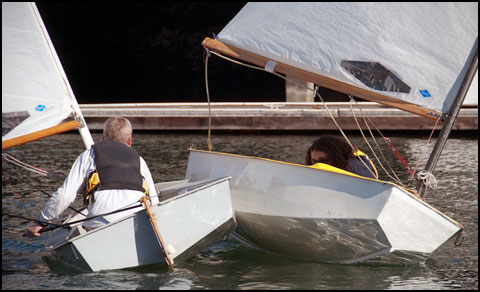 A father and daughter bump hulls as they try to maneuver their way upwind without the fulcrum a daggerboard provides. ©2016 norcalsailing.com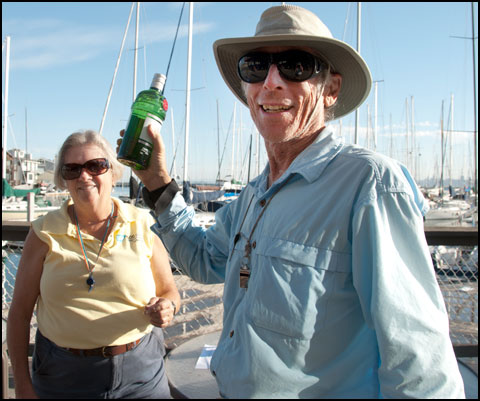 No stranger to the El Toro winner's circle, Art Lange accepts the Green Bottle award from race chair Vickie Gilmour. ©2016 norcalsailing.com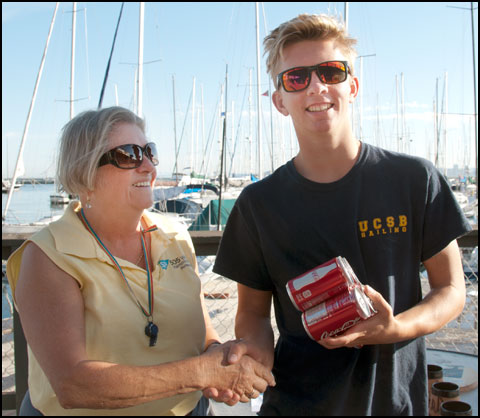 The junior 'Green Bottle' winner, Connell Phillips, wins an 8-pack of Coca-Cola. ©2016 norcalsailing.com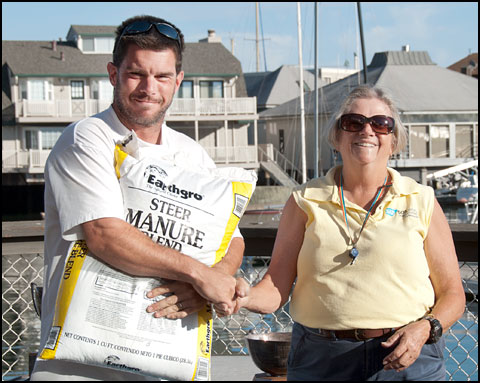 Finals winner Nick Nash took home the sack of… finest steer manure. ©2016 norcalsailing.com