This year's OYRA Half Moon Bay Race got off to a good start with a healthy ebb and nice west wind. The Half Moon Bay race committee, operating from the St. Francis Yacht Club race deck, got the race underway efficiently on time, with five OYRA divisions starting. PHRO 1 was the large division with 16 boats crowding the start line. Several PHRO 1 boats had the opportunity to re-start after they were squeezed out at the 'A' mark as they attempted to cross the start line. The other OYRA divisions were smaller and managed to cross the start line without incident. Everyone tacked over to port and headed for the middle as soon as possible, aiming for the 3.5-knot ebb for help getting out.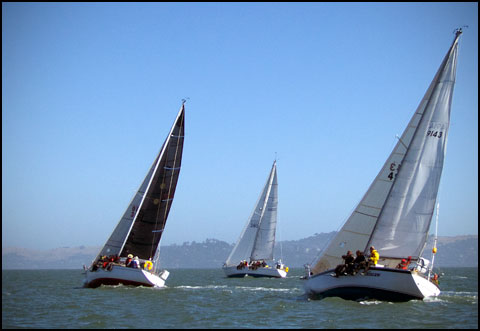 Ahi, Sea Star and Iniscaw in PHRO 2 right after their start. ©2016 norcalsailing.com
Aided by the ebb, most boats passed under the Golden Gate Bridge in around 15 minutes without further tacking. Once beyond the bridge, staying in the middle ebb paid off big time, with boats seeking better current around the edges suffering. The wind held until just past Lands End. OYRA President Andy Newell, sailing the Santana 35 Ahi in PHRO 2, reported: "Things got a little light for a while and then once the wind filled in a bit we were overstood for SF Entrance Buoy #2, the turning mark." PHRO 1 boats, the faster full-crewed fleet, sailed a course out to the SF Buoy before turning south for Pillar Point. All other divisions used SF Entrance Buoy #2 as their turning mark. The courses were listed at 32.0 and 28.5 miles respectively.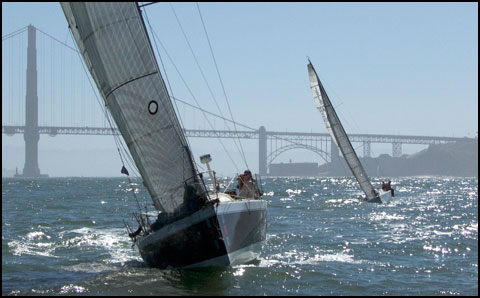 The 1D35 Zsa Zsa and J88 White Shadow slip out the Gate. ©2016 norcalsailing.com
As the racers in PHRO 2 and other shorter-course divisions approached Entrance Buoy #2, they could already see chutes blossoming on the horizon as the faster PHRO 1 boats reached the Lightbucket and headed south. Weather forecasts predicted stronger winds farther out, so most boats stayed parallel to the shore as they sailed south, planning to jibe over as they approached the layline for PP #3, the finish mark. Rich Pipkin, sailing he and wife Mary's J/125 Can't Touch This, reported: "We went farther out than most, hoping for better breeze, but jibed back when we found the wind was even over the course and we'd sailed too far." Others also reported believing the "offshore" wind report too much.
Among the boats opting for a rhumbline course, Scott Cyphers, sailing his Ericson 35 Ergo, said "It was great to set the spinnaker at the turning mark (#2 for him) and settle in for a long run down to Pillar Point." Greg Ashby, sailing singlehanded aboard his Wilderness 30 Nightmare agreed, commenting that he sailed "a close reach under spinnaker until Colorado Reef, then cracked off for PP #3, building boat speed as the wind piped up." Pat Broderick and crew Ross Bliven, sailing the doublehanded Wyliecat 30 Nancy also reported sailing the rhumbline on a beam reach turning into a broad reach at the south end of the course.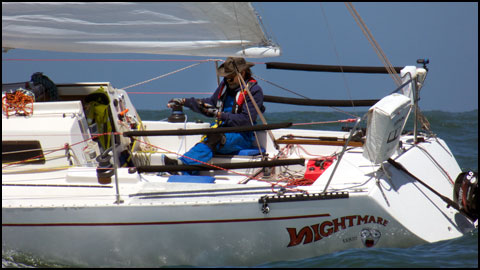 Greg Ashby on Nightmare. ©2016 norcalsailing.com
PHRO 1 boats, which sailed the longer course, and the others converged at PP #3 where HMBYC's committee boat awaited them. Because it's difficult to set a finish mark, the finish was an imaginary line between the Pillar Point Harbor entrance beacon tower and Green 3, with boats taking their own time and reporting to the committee boat. It all went as planned, and results were posted later on www.jibeset.net.
Along with a good race day, it was a good day for marine wildlife. Rich and Mary's gray J/125 Can't Touch This seems to be a whale magnet. They reported a very close encounter with a humpback whale on the Farallones Race, and on their way toward Pillar Point they saw two whales headed north, "but it appeared like they turned and swam toward us. At the last minute they dove under the boat — we hoped they knew our draft. An absolute 10 on the pucker scale." Could it be a gray J/125 looks like another whale to a humpback?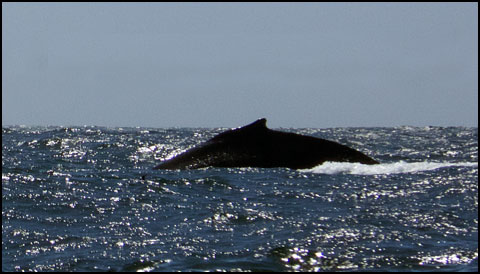 Traveling south in good company. ©2016 norcalsailing.com
Scott Cyphers, Andy Newell, Greg Ashby, and Pat Broderick also reported seeing whales up close and personal. It was also a good day for great white shark sighting. Cyphers, Ashby, and Broderick all reported seeing a great white 8 to 10 feet long cruising along just under the surface.

Douglas Bailey's J/105 Akula corrected out first in PHRO1 (16 boats). Max Crittenden's Martin 32 Iniscaw finished first in PHRO 2 (4 boats). Pat Broderick's Wyliecat 30 Nancy took the Short-Handed Division (6 boats) and Joshua Rothe's Santa Cruz 33 Oscar finished first in the Single-Handed Divsion (2 boats). Truis Myklebust's Raven was the sole Multihull.
— Pat Broderick