May 31, 2016
Peninsula Youth Sailing Foundation (PYSF) held its inaugural Family Fun Regatta on Sunday, May 15, at the Port of Redwood City. Thirty-six young sailors, parents and coaches came to compete, and many more watched and cheered from the shore while enjoying tacos, ice cream and games. The racers sailed in Flying Juniors (FJs), a two-person boat that is commonly used in high school and college sailing competitions. A steady 12-15 knot breeze made for plenty of fast and fun sailing, and a few capsizes.
Finishing in first place were Patrick and his father Kevin Wilkinson, of South Beach Yacht Club, and Lucas and his father Christian Kasper. Patrick, a senior at Woodside High School, will attend the University of Hawaii in the fall where he will join the school's varsity sailing team. Lucas is in fifth grade at St. Matthew's Catholic School in San Mateo, and was one of the youngest sailors in the regatta.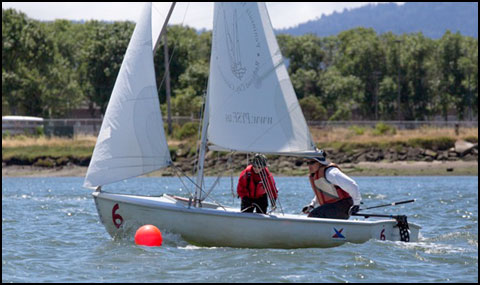 Lucas and Christian Kasper. ©2016 Christopher Brown
The winning team members will have their names engraved on the Lori Wilkinson Memorial Family Fun Regatta Trophy (pictured in the trophy presentation is Molly Vandemoer, director of the Peninsula Youth Sailing Foundation). Judging by all the smiles and laughter, the event was a huge success and raised more than $5,000 to support PYSF's youth sailing programs.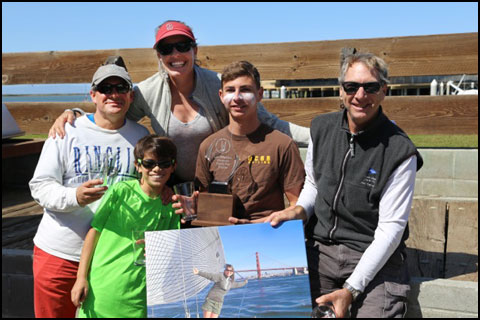 Left to right: Christian and Lucas Kasper, PYSF director and head coach Molly Vandemoer, and Patrick and Kevin Wilkinson. ©2016 Christopher Brown

PYSF is a 501(c)3 non-profit organization, providing learn-to-sail and race team programs for Bay Area youth ages 8 to 18. It is located at the Port of Redwood City, which allows PYSF to house its sailing center by the public boat launch ramp on Chesapeake Drive. For more information, including about scholarships for those with a financial need, go to www.pysf.us.
— Christopher Brown