Sausalito Yacht Club's second Tuesday evening Spring Sunset race on May 10 started with westerly wind in the mid-teens and a building 2.4-knot ebb. The race committee chose a 9-mile course for the two spinnaker divisions and a shorter, 6-mile course for the non-spinnaker boats. The race committee graciously allowed the two humpback whales swimming through the starting area to select their own course, which took them toward the Golden Gate Bridge and out of the racers' way.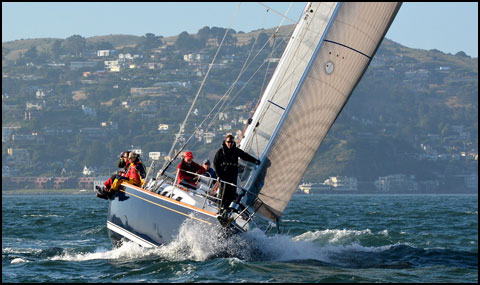 Nick Sands' beautiful blue Sabre 402 Escapade.
©2016 Roxanne Fairbairn/roxshots.smugmug.com
As the spinnaker boats sailed toward their upwind turning mark at Yellow Bluff, the wind began to build, and by the time the non-spinnaker boats were on their way it was in the low 20-knot range. The committee boat saw a high of 28 knots true at the start/finish line.
After turning Yellow Bluff the spinnaker divisions set their chutes and sailed directly into the growing ebb toward the leeward mark, YRA #8. An outbound container ship kept the spinnaker boats south of Harding Rock, preventing them from seeking relief from the current alongside Angel Island until it was too late to sail in that direction. Several boats had spinnaker mishaps, including one ripped chute, and several others opted to douse and wing out their jibs.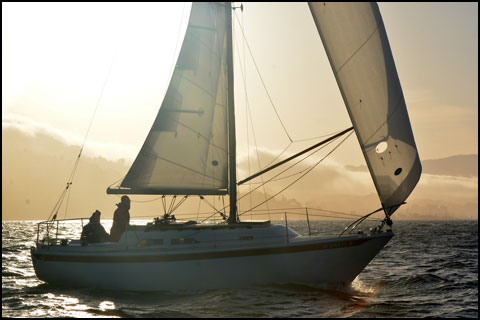 Phil Hyndman's Cal 29 Serendipity. ©2016 Roxanne Fairbairn/roxshots.smugmug.com
In the meantime, the non-spinnaker boats sailed to a temporary leeward mark at Point Knox on their way to a twice-around windward/leeward loop.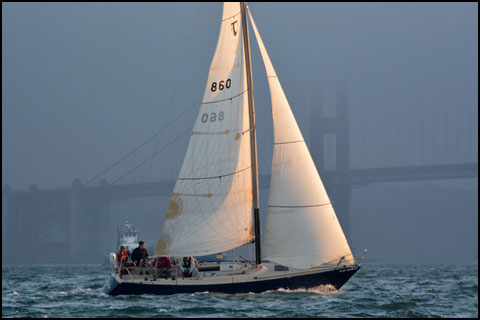 Deana Maggard's Tartan Ten Cattitude, with the last of the evening sun on her sails. ©2016 Roxanne Fairbairn/roxshots.smugmug.com
The spinnaker fleet arrived at YRA #8 and began the long beat back to the finish line, with most boats finding welcome ebb toward the middle. The spinnaker and non-spinnaker divisions approached the finish line mingled together, presenting the race committee with an opportunity to sort out finishes, deciding whether it would be a gun or a horn as boats crossed the line.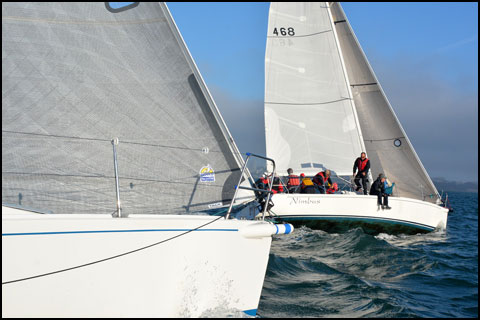 The J/105s sail in Spinnaker A. ©2016 Roxanne Fairbairn/roxshots.smugmug.com
Neil Gibbs' J/105 Nimbus finished first in the large spinnaker division and Steven Gordon's J/88 Inconceivable finished first in the small spinnaker fleet. Cathy Stierhoff's Santana 22 Tackful finished first in the 10-boat non-spinnaker division.
Full results and overall standings are available on the Sausalito Yacht Club website. The next SYC Spring Sunset race is scheduled for Tuesday, May 24.
— Pat Broderick