The Singlehanded Sailing Society's Corinthian Race on Saturday started and finished in great sailing wind and wave conditions to make it a fine day. It was just the middle part that sucked as that nice wind and waves made for a big pile-up at the Blossom Rock Buoy.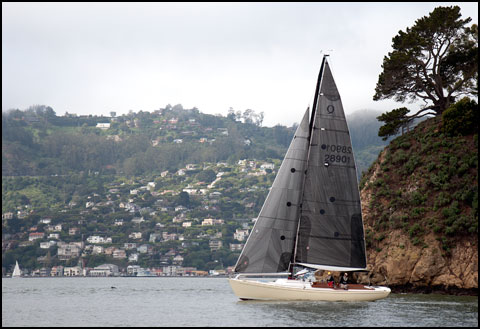 The escape from Belvedere Cove was a piece of cake. ©2016 norcalsailing.com
The convoluted course heads out of Belvedere, around Little Harding Buoy, down to Blossom, up to Blackaller Buoy, back down to Shouthhampton Shoal Light, over to Little Harding again and a last run to the finish at Corinthian Yacht Club.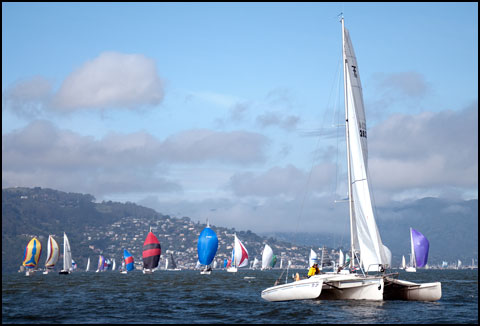 Multihulls started first. Everyone else had to catch up, bringing the wind with them. ©2016 norcalsailing.com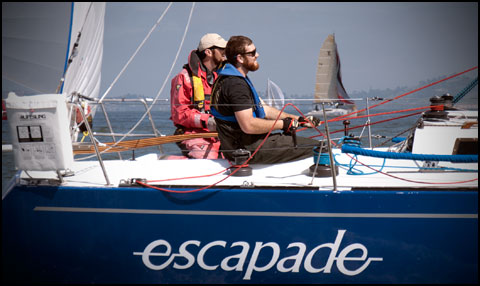 Escapade attempts to pick a lane to negotiate the traffic jam at Blossom. ©2016 norcalsailing.com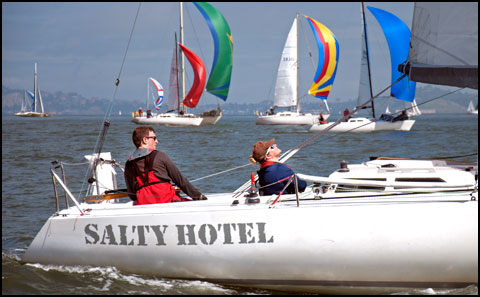 As the race was part of their championship series, 15 Express 27s raced. ©2016 norcalsailing.com
The problem at Blossom was caused by a westerly filling in combined with a building ebb that compressed all the divisions into one big bunch trying to get around the mark at the same time. As more boats tried squeezing in the sound of crunching fiberglass could be heard echoing around the Bay. Several boats who got stuck in the pileup dropped out of the race and missed the best part of the day.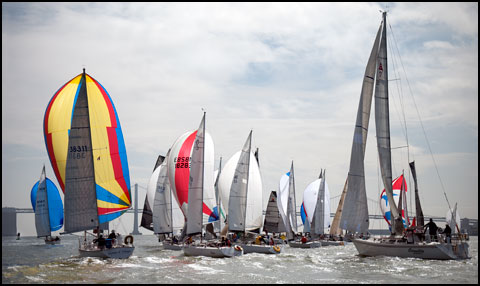 Homing in on Blossom Rock, all in a bunch. ©2016 norcalsailing.com
If you made it out of the pinwheel of death unscathed, the rest of the day was a romp, starting with a long beat to Blackaller — no short-tacking required up the Cityfront in the helpful ebb.The wind filled into a nice 15-knot westerly with enough oomph to get the boats around the often-becalmed Southampton.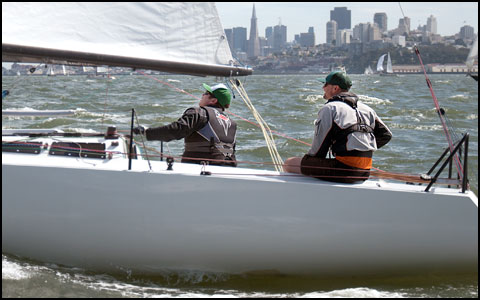 The fun run from Blackaller to Point Blunt on Yeti. ©2016 norcalsailing.com
With the ebb still on and after the second rounding of Little Harding to the finish Aeolus (the west wind not the J/111) was kind enough to keep boats moving all the way to the finish and through the usual no-wind zone off CYC.
At a post-mortem of the day back at the CYC clubhouse, the consensus was that, while it may work for NASCAR, rubbing is not racing in yachting circles. Preliminary results can be found on Jibeset. Awards will be given out at Oakland YC in Alameda on March 30. See www.sfbaysss.org for more info, and see our photo gallery.