We've all seen that neglected boat sitting out in the rain and sun. Most of the time it's just a Catalina 22 or other high-volume production boat. Occasionally it's a Moore 24 that's been sitting a few years and just needs a little work to get running again. But then we came along this Santa Cruz 52 sitting in San Leandro Marina looking as forlorn as the marina itself. Do you know who owns it and what happened? The name on the transom reads 'Morga'-something, and the hailing port could be San Francisco, or San something-else.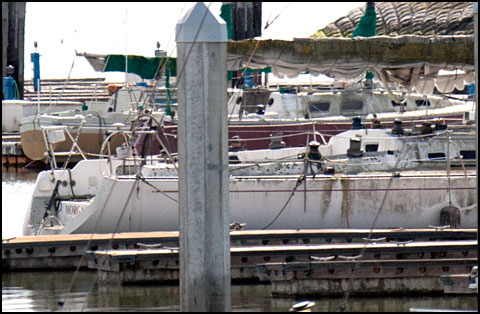 This closer view reveals that she's not been cared for in a long time. ©2016 norcalsailing.com
Responses to this post so far indicate that the boat is Morgana. Pat of Stockton writes: "Yes, that is Morgana. It is owned by Rob Magoon.
It was originally Rosebud. Raced it in better times, Big Boats and YRA." The Santa Cruz 52 Rosebud was owned and successfully raced by Roger Sturgeon before he replaced her with first a TP52 then an STP65. Morgana, sailed by Magoon, had some success as well in the early 2000s.
Patrick of Santa Cruz writes, "Rob Magoon used to own the boat; he still might." Patrick referred us to this unfortunate news story about Magoon, which might explain why no one is tending to this once-fine yacht: www.pleasantonweekly.com/news/2012/02/03/police-re-arrest-brothers-busted-for-running-a-meth-lab.