After six races for 66 boats in eight divisions, clear leaders have emerged in some classes, while others are too close to call, going into the last day of the 2012 Rolex Big Boat Series at St. Francis YC.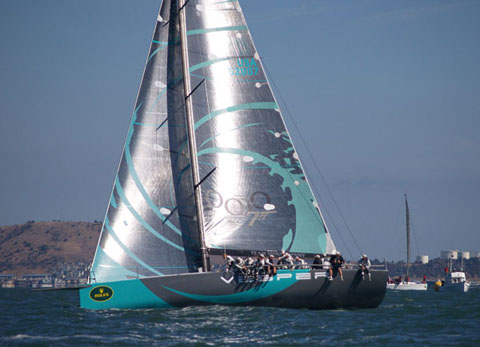 Jim Swartz's TP 52 Vesper has dominated IRC A, winning five out of six races so far. ©2012 norcalsailing.com
IRC A has been a race between four boats over 50 feet, spitting the smaller RP 44 and ID48 out the back. The point spread is wide between those four, with Vesper the unstoppable force.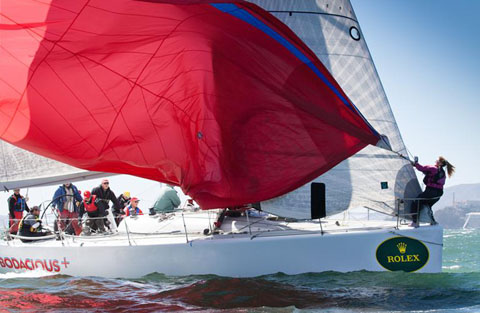 Foredeck crew Lori Tewksbury wrangles the huge spinnaker on Bodacious+, John Clauser's 1D48 racing in IRC A. ©2012 Rolex/Daniel Forster
In the new multihull class, club commodore Peter Stoneberg's ProSail 40 Shadow has wrapped up the series even before the last race.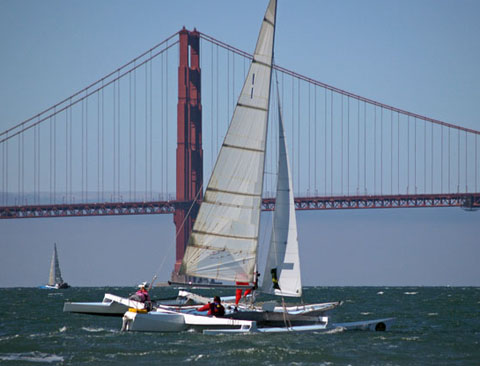 The regatta has not been a cakewalk for the lonely only trimaran, Stephen Marcoe's 34-ft Gougeon/Gardiner Cake Walk, seen here in Saturday's first race. They have three DNFs. ©2012 norcalsailing.com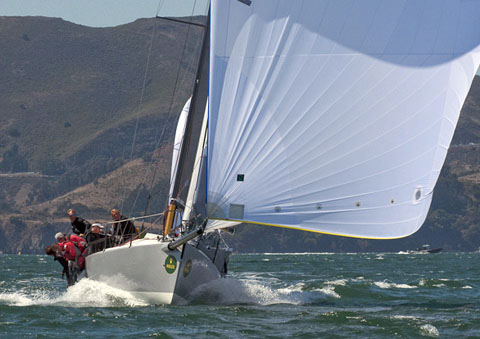 Peter Krueger's J/125 Double Trouble has dominated IRC C and HPR. ©2012 Erik Simonson/www.pressure-drop.us
By contrast, the J/105 fleet goes into the last race with a tie for points between Rolf Kaiser's Donkey Jack and Scooter Simmons' defending champion Blackhawk.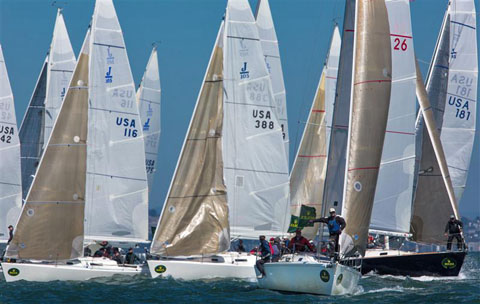 A forest of J/105s. ©2012 Rolex/Daniel Forster
IRC B and D are also too close to call, with Dan Woolery's King 40 Soozal and Brad Copper's Tripp 43 TNT only two points apart in B, and just one point separating Frank Morrow's IMX-38 Hawkeye and Gerard Sheridan's Elan 40 Tupelo Honey in D.
Yesterday, defender Barry Lewis's Chance knocked John Wimer's Desdemona off the top of the scoreboard in the J/120 fleet. But they are only one point apart, so either could still claim the win. Similarly, Dick Swanson's Grace Dances is just one point ahead of Steve Madeira's Mr. Magoo, so either of them could wind up with the third spot on the podium.
In the Express 37 fleet, the leaderboard has revolved around a protest and a redress. On Friday, we reported that two Expresses had protested two others for violating a limiting buoy at Pier 39 in the last race on Thursday. But yesterday redress was given to both of them, Golden Moon and Blade Runner, resulting in those two boats moving to first and second place respectively. The jury found that, "The buoy was set seaward of Piers 35 and 39 but significantly closer to 35. There was an improper action by the race committee in setting the buoy in the incorrect position, which was through no fault of the competitor."
The one long race today, Sunday, is a Bay Tour, usually about a 20-mile course. Although the weather forecast on the radio this morning called for "a bit of breeze" today, the wind velocity so far appears a little lighter this morning, still from the west here on the Cityfront, with no sign of the famous San Francisco fog which made an appearance, mostly offshore, yesterday. Not too shabby for a tour of the Bay.
See lots more at www.rolexbigboatseries.com.