This year's Jazz Cup hit an almost perfect note with a nice run out of the Bay fog into Benicia sunshine. The first leg was a beam reach from South Beach YC's committee boat, stationed north of Treasure Island, to the weather mark, the R2 channel buoy one mile west. Some boats were able to set their spinnakers early while others waited until they were safely clear of the crowded mark rounding. Once they set, the racers made it through a dying breeze in the North Bay only to find sunshine and better pressure around Pt. San Pablo past the Brothers.

The fleet approaches the Richmond-San Rafael Bridge. ©2012 norcalsailing.com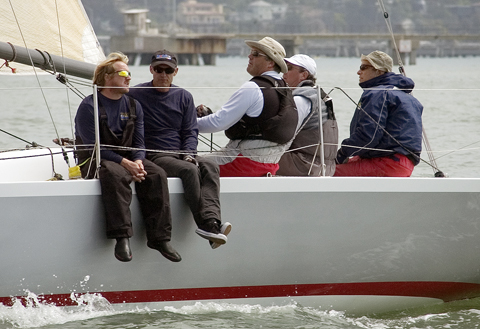 Brooks Dees' GP 26 Salt Peanuts. ©2012 norcalsailing.com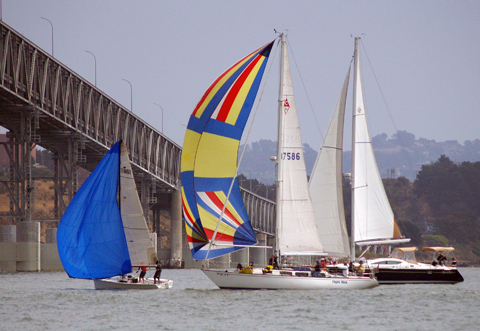 Flight Risk's air is being stolen by … a bigger Flight Risk. Plus Joe Bello in non-spinnaker division. Ben Landon's little Thompson T650 got fourth overall. ©2012 norcalsailing.com
Then the race turned into a mini version of "slot cars" through San Pablo Bay. Because of a flood tide and almost dead downwind sailing once you'd chosen your lane, you had no choice but to continue on. Those who picked the deep water near the shipping channel had better current. "We saw boats on the outside but we thought our early choice of picking the shortest distance by cutting the corner would pay off," said Richard VonEhrenkrook of the Cal 20 Can O'Whoopass. "Unfortunately it looked like we were wrong and once we were committed that was it – to jibe back out would be too far away. You can't get there from here."
The crew of the Catalina 30 Goose were pleased with their speed in the stronger current. "It was funny because we would follow these lines of current streaming out, jumping over from one to the next. But we saw at least one knot of push from each one," remarked skipper Mike Kastrop. So went the dock talk at the post-race raft-up.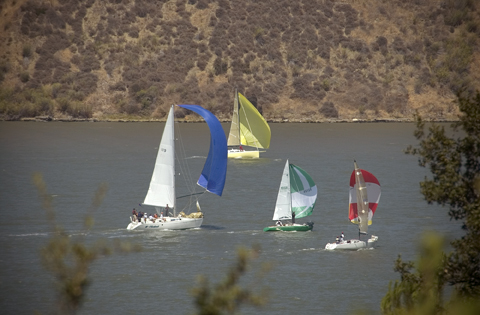 E Ticket, Arcadia, Mas! and Tule Fog approach the Carquinez Bridges. ©2012 norcalsailing.com
Once in Carquinez Strait the boats saw a little more breeze, with up to 20 knots in the puffs, but most importantly, they were able to carry the chute all the way to the leeward mark without much interference from the usual havoc-inducing side-blasters off the hills.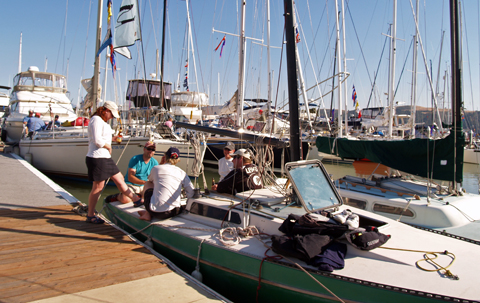 The Moore 24 Mas! at the Benicia Marina raft-up. ©2012 norcalsailing.com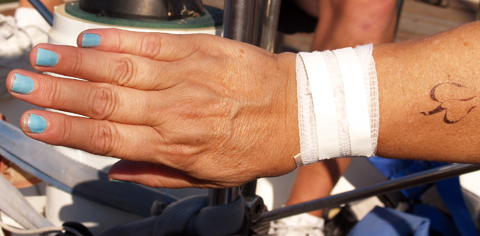 Lorianna on Goose got a wicked rope burn from a spinnaker sheet wrapped around her wrist during a jibe. ©2012 norcalsailing.com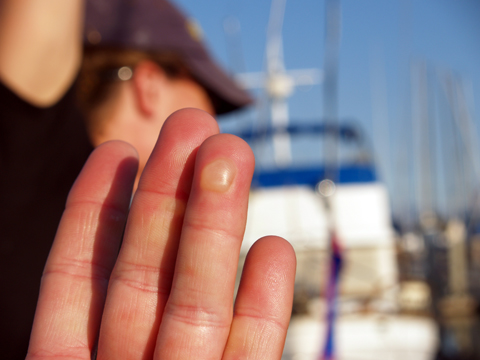 Suzanne on Escapade suffered another spinnaker sheet mishap. ©2012 norcalsailing.com
Then came dinner, dancing, and the race results and awards ceremony at Benicia YC. Can O'Whoopass fared better than they'd thought once the math was done – they corrected out to seventh out of 74 boats overall and won Division E. Goose came in third in Division E. (Alegre, a Santana 22, got second.) But Goose was the first finisher from co-host clubs South Beach and Benicia, and so they won the coveted Jazz Cup trophy itself, an antique trumpet, an honor with which they have some familiarity.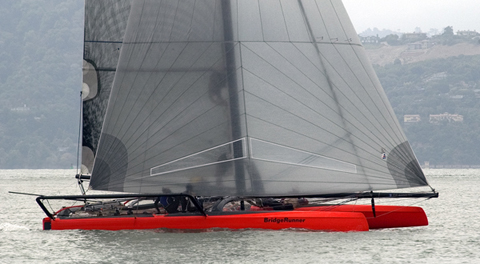 The SL33 catamaran BridgeRunner was the first boat to enter San Pablo Bay, first to finish, and first overall. ©2012 norcalsailing.com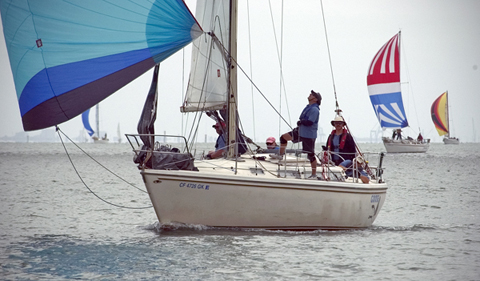 Not long after, perennial Jazz Cup winner Goose, a Catalina 30 from South Beach in San Francisco, was the first monohull under the bridge. ©2012 norcalsailing.com
Go here for results. And be sure to check out our photo gallery and slideshow!