If you ever wanted to do an ocean race without the hassle of too much wind, waves and long hours in the dark, and without assembling a big crew, then maybe the Singlehanded Sailing Society's Half Moon Bay Race is the ticket. It's only 24 miles from the Golden Gate to Half Moon Bay and the welcoming venue of the Half Moon Bay Yacht Club.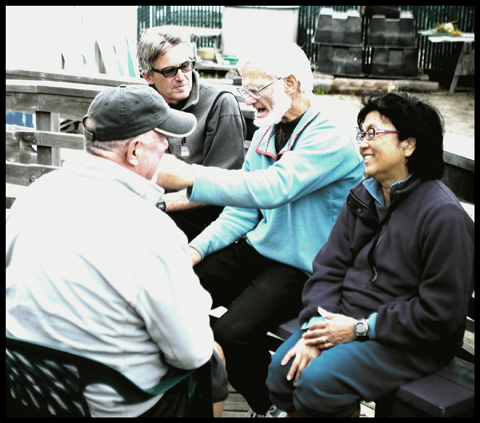 Steve Wonner and Bren Meyer of the newly re-masted Wyliecat 30 Uno shared tales with Gordie Nash and Ruth Suzuki of the Nashtana 28 Arcadia. ©2012 norcalsailing.com
In most years it's a broad reach, with a short two-mile spinnaker run to the finish at Pillar Point. But during this year's race on Saturday, the fleet of singlehanders and doublehanders saw quite a bit of south to the wind, so you could have called it The Long One-Tack Beat to the finish.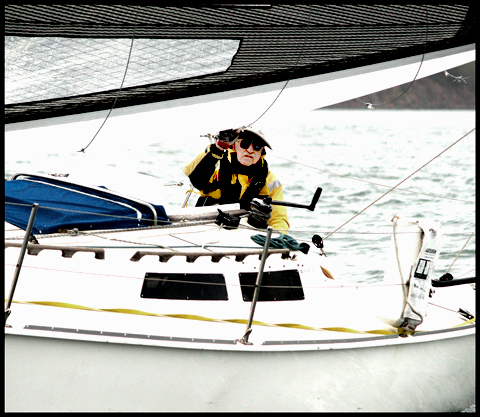 Pat Broderick won his singlehanded division in the Wyliecat 30 Nancy. ©2012 norcalsailing.com
Because of some conflict with the usual start line area on the Cityfront at Golden Gate YC and some other races going on there, the always-creative SSS powers-that-be found a new starting area at Horseshoe Cove on the north side of the Golden Gate Bridge with the pin end of the start line a virtual GPS waypoint.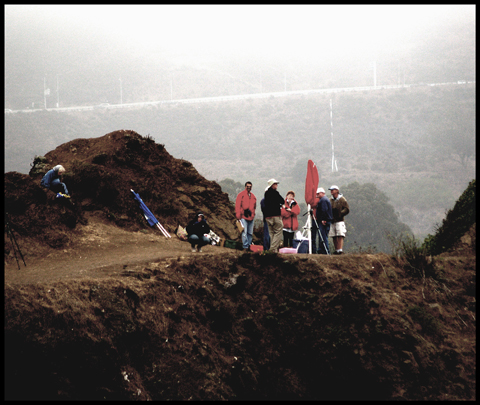 The race committee made do with the accommodations on Marin's Point Cavallo. ©2012 norcalsailing.com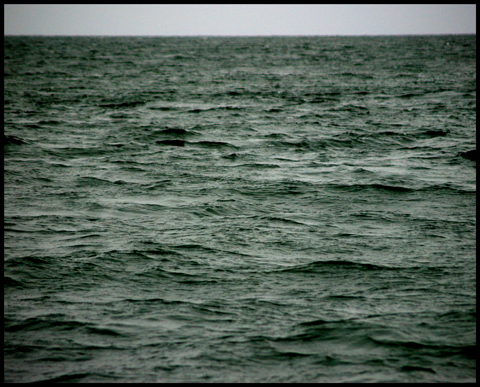 Here's what the pin looked like. ©2012 norcalsailing.com
After the start the boats found good wind up of 15 to 17 knots all the way down the coast until about a mile before the finish, when the wind nearly shut down completely. Spinnakers were finally aired out for about the last half mile. Forty boats started and forty boats finished in what could be called a foggy but great day of racing. See www.sfbaysss.org for complete results.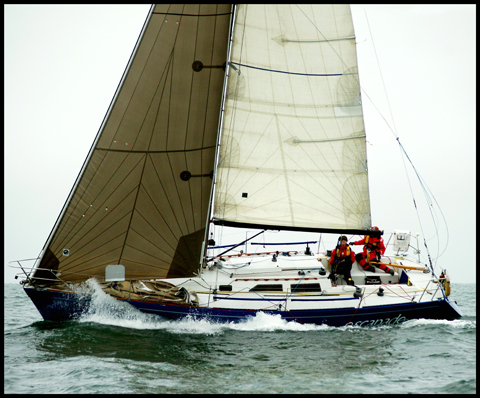 Nicolas and Derek Schmidt on the Express 37 Escapade out on the ocean. ©2012 norcalsailing.com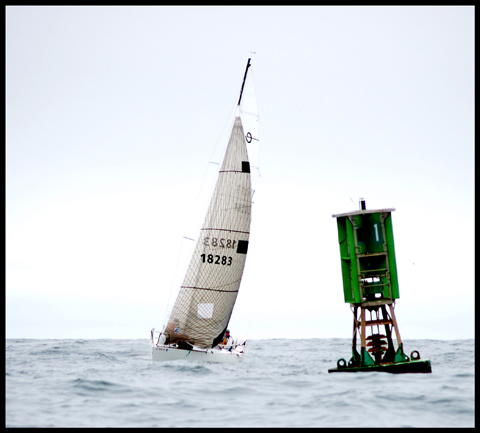 Ron Snetsinger and Stanly Martin on the Express 27 Verve at the penultimate mark. They weren't able to set yet. ©2012 norcalsailing.com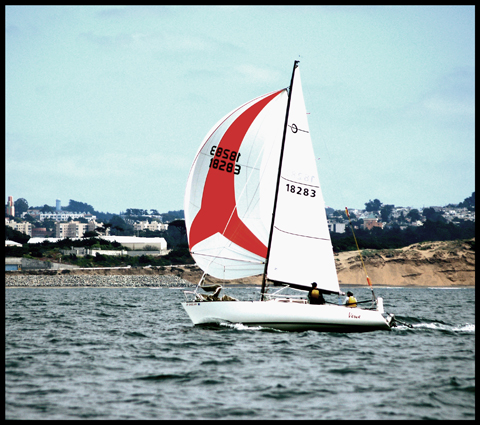 Verve's spinnaker got much more use on the return trip back up the coast (they're seen here sailing past the George W. Bush Sewage Treatment Plant just south of San Francisco's Ocean Beach). ©2012 norcalsailing.com