Believe it or not fall is creeping up on us like yellow on the poplar trees. During last Friday's Corinthian Yacht Club beer can race the light had a slight fall look to it. The fall semester has already begun in some school districts. And a soft, fall-like wind made the race a pleasant affair with no worries about getting too wet and cold.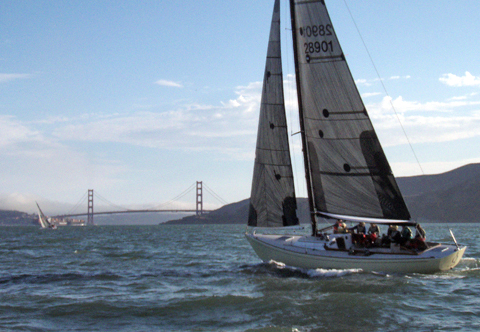 Glenn Isaacson's Schumacher 30 Q heads out for the windward mark, Yellow Bluff. Note the fog hovering just beyond the bridge. ©2012 norcalsailing.com
Twenty-nine boats showed up on the start line right in front of the stately clubhouse. In good beer can fashion, the fleets were a mixed group from sportboats to the ubiquitous Cal 20. Five Melges 20s were sent off first with a longer course to give them a practice race for the weekend's Melges Race Week, hosted by the neighboring San Francisco YC.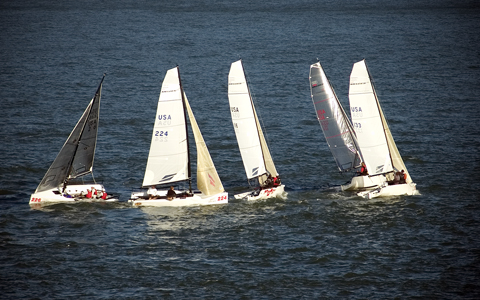 Five Melges 20s start their practice race. ©2012 norcalsailing.com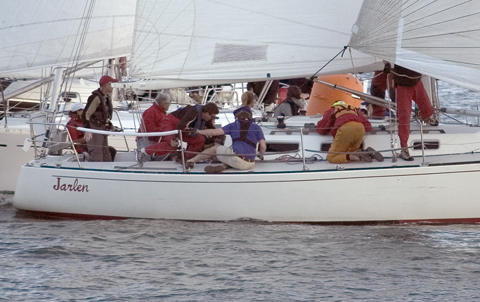 Bob Bloom's J/35 Jarlen managed to get around the course with 14 people aboard. ©2012 norcalsailing.com
In the soft glow of the setting sun, the boats finished before dark, and just at the end the fog started rolling in the Gate reminding that although fall is coming summer is still with us for one more month.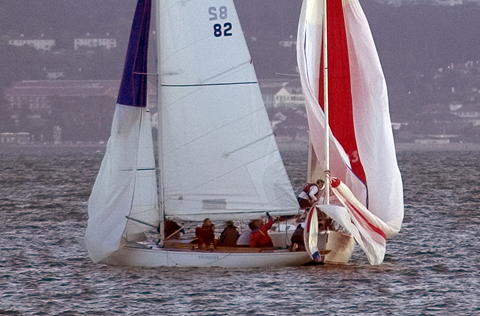 The IODYoungster and She Loves It tangled it up a bit on the return trip to CYC. ©2012 norcalsailing.com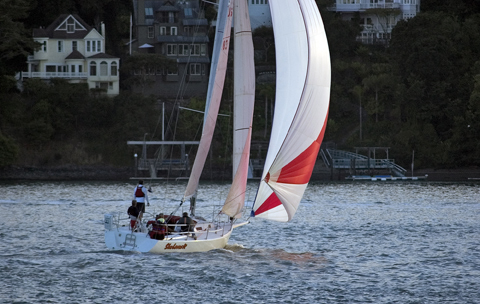 She Loves It with a little breeze. The wind direction shifted enough that many boats finished with the spinnaker up, an unsual sight. ©2012 norcalsailing.com
This series only has two more races left. See http://cyc.org/racing.