Time to get with the nineties and throw away your monohull. Catamarans are all the rage on San Francisco Bay now. Why, even the Rolex Big Boat Series, coming up faster than you might think on September 6-9, is letting cats in this year.
This year, the 48th edition will be adding performance catamarans to the roster. Adding catamarans was inspired by the America's Cup sailing that has been taking place on San Francisco Bay. Rolex Big Boat Series is wedged between next week's America's Cup World Series regatta and the one in the first week of October.
"Having catamarans included in it for the first time is very exciting for us, especially in light of the interest in performance catamaran racing generated by the America's Cup World Series events in San Francisco," said Peter Stoneberg, Commodore of the hosting club, St. Francis YC. Peter will be racing in the event aboard his ProSail 40 catamaran Shadow.
"I love catamarans. You just can't beat the thrill and adrenaline of racing them on San Francisco Bay, and this year's Rolex Big Boat Series will be the first premier class regatta that includes a catamaran division."
According to Staff Commodore of the Bay Area Multihull Association (BAMA) Bob Naber, "The class will enjoy exciting racing, provide viewers with a fantastic experience and show a breed of catamarans that are available to sailors outside of the America's Cup." The class will include performance catamarans over 35 feet, with no limitations on technology and design. They will be scored using handicap PHRF ratings issued by BAMA and race on courses similar to those used for America's Cup racing.
Urs Rothacher of Oakland has been preparing the SL33 BridgeRunner for some tight racing. The SL33 is a boat class that is being used by Luna Rossa and Emirates Team New Zealand for practice and testing leading up to the America's Cup.
"The design is very versatile and one of the fastest boats you can sail without having a full professional crew," said Rothacher, who's been sailing BridgeRunner since December 2011. "With fast multihulls, I'm not fighting against the boat; I'm fighting against the boundaries of physics, because that is about as fast as these sailboats can go."
Going up against BridgeRunner will be Brendon Busch's D-Class Catamaran Rocket 88, which won the doublehanded division of the Three Bridge Fiasco Race and currently holds the record for elapsed time in the Delta Ditch Run.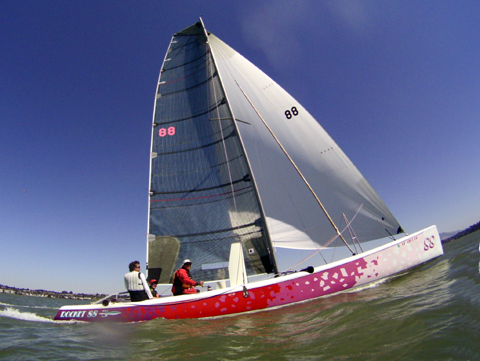 Rocket 88, still sporting her eighties paint job, in last year's Jazz Cup. Ian Klitza will be onboard as tactician for RBBS. ©2011 norcalsailing.com
"It will be a competitive fleet," said Bill Turpin, who will be co-skippering with Busch. Turpin added that the team finished second overall in the 2011 BAMA Cup and is currently leading in the BAMA series this year. "I'm really excited, because catamaran racing is totally different; it's athletic, and the speed potential is just enormous."
Turpin has competed in the Rolex Big Boat Series many times before in his 78-ft R/P Turbo Sled Akela, which is currently for sale. "It will be very interesting to see how the cats compare to the monohulls."
For more on the series, which also serves as the IRC North American Championships, see www.rolexbigboatseries.com.