If you take your time coming back from the Delta Ditch Run, you can encounter all sorts of interesting boats and people. This informal, self-sufficient group of 11 small boats from the Small Craft Cruising Club (SCCC) had gathered at Korth's Pirates Lair, at the junction of the San Joaquin and Mokelumne Rivers, for the kick-off of their 'un-gunk' cruise of the Delta. "We get together as a result of an event the San Francisco Maritime Museum started in 1989," said Bill Doll, Curator of Small Craft at the SF Maritime National Historic Park. That event was referred to as 'gunkholing'.
The story of this year's Delta cruise follows.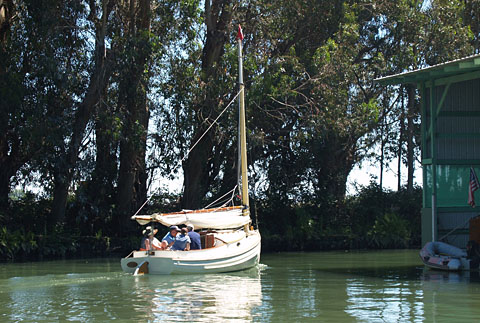 Pixie, a 17-ft cat boat enter Korth's. Pixie is a Charles Wittholtz design built by Dave McGhee in 1992 and owned by Bill and Wendy Doll. ©2012 norcalsailing.com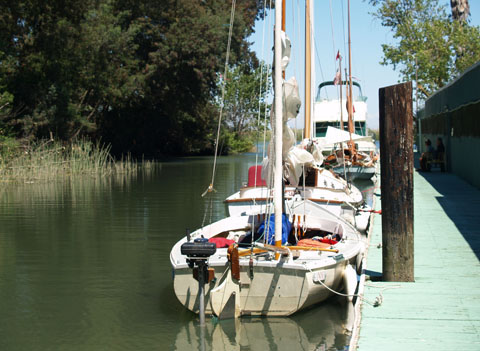 Some of the boats at Korth's guest dock. The one in the foreground is Anne. ©2012 norcalsailing.com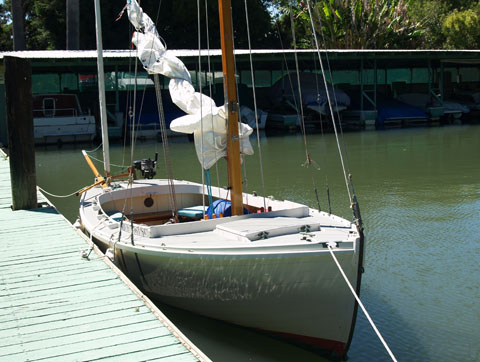 Anne is an 18-ft Sonny Hogdon design, owned by Bob Hall. ©2012 norcalsailing.com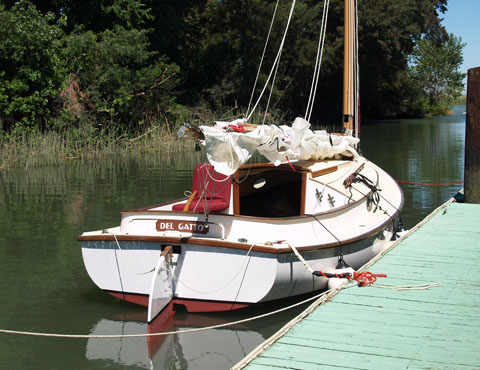 Del Gatto is an 18-ft Herreshoff America Cat owned by Del Pezzoni. ©2012 norcalsailing.com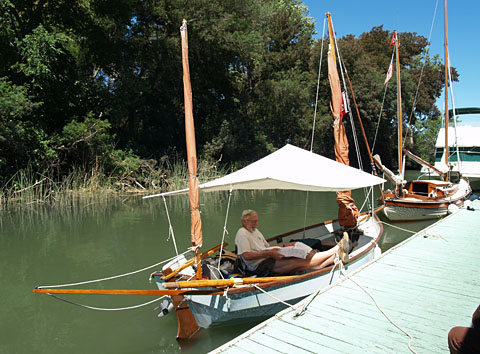 Don Bybee checks his chart aboard his 17-ft Drascome Dabbler Willet. ©2012 norcalsailing.com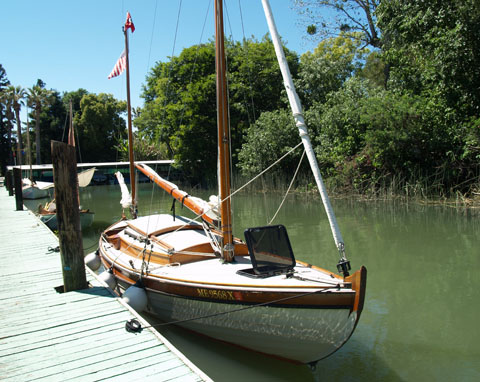 Sally, an Albert Strange built in the 1990s and owned by Jake Roulstone. ©2012 norcalsailing.com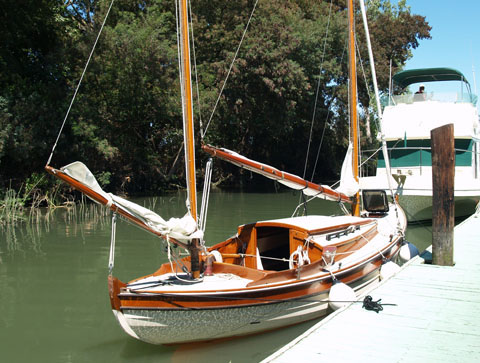 Another view of Sally. ©2012 norcalsailing.com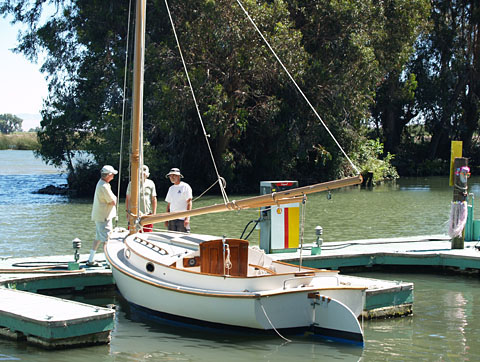 Eloise is owned by Richard and Susan Geiger. She's an 18-ft Herreshoff America Cat. ©2012 norcalsailing.com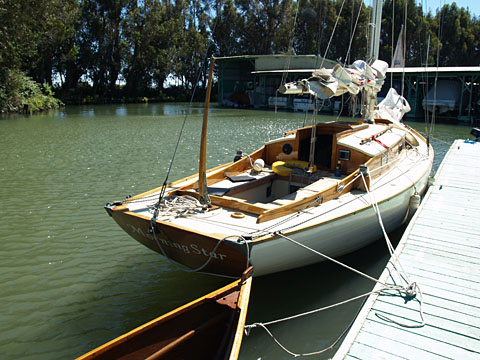 Morning Star is a 32-footer owned by Barbara Ohler. ©2012 norcalsailing.com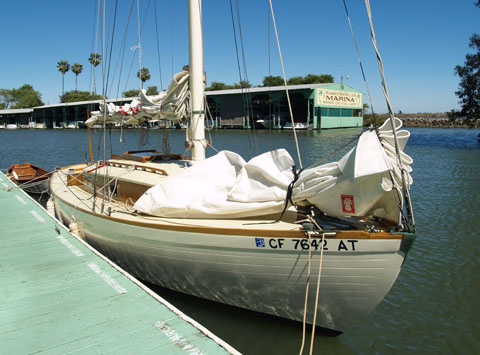 Morning Star, tied up to Korth's fuel dock. ©2012 norcalsailing.com

Morning Star's tender, an Aeolian Dory. We saw both these boats later in the month at the MMBA's Wooden Boat Show. ©2012 norcalsailing.com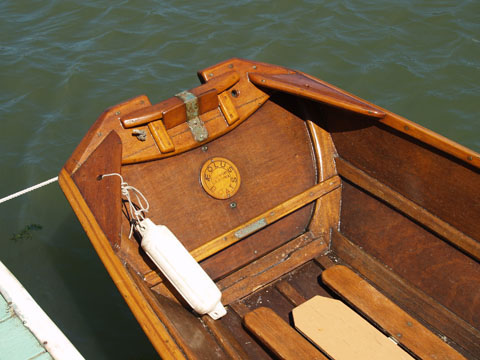 The dory was built by Aeolus Boats of Davenport, CA. ©2012 norcalsailing.com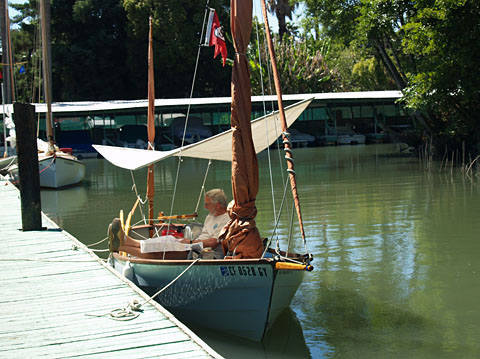 On the afternoon of Sunday, June 3, Don Bybee reviewed the route the cruise would take, before heading over to the group's potluck barbecue. ©2012 norcalsailing.com
Don Bybee tell the tale of June's 'ungunk' cruise:
This is one of the best trips I ever had on the Delta. Some of our earlier trips included the 110-ft scow schooner Alma, which was great, but limited where we could dock and anchor. I enjoyed those earlier trips very much, but on this trip we were able to stay at docks each night, rather than anchoring out. This is pretty necessary on a 15-ft boat. Also, the wind was strong most days, and just about right for a stout English-built boat to provide some lively singlehanded sailing.
We waited out Monday's storm at Korth's Pirates Lair, and then left on Tuesday, June 5. We sailed down the San Joaquin to Driftwood Marina at the foot of the Antioch Bridge. If I remember right, the day started out a bit windy, and I had a reef in the main, but on this trip the reef never lasted long. I had the need for speed. The Driftwood Yacht Club hosted us, and they were very gracious. It was a pleasure to visit their club. Due to the delay we were there on 'Taco Tuesday' and Karaoke night (including an Elvis impersonator). This was a new first for the gunkholing trip. The dancing was still going on when I went back to the boat to go to sleep.
The next day, Wednesday, we sailed west on the San Joaquin, cut north into Broad Slough, hung out for a couple of hours at Collinsville till the tide changed, and then took the downwind run to Rio Vista. The first section of the day was fantastic, close hauled with the current in the San Joaquin, trading tacks with Don and Cheryl in their Crab Skiff. My boat was rail down and the spray was flying. This was one of my best mornings ever. I could see the Montezuma Hills windmills in the distance.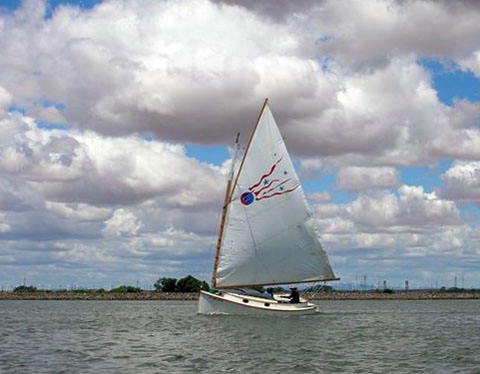 Sailing out of Antioch on Wednesday. ©2012 Don Bybee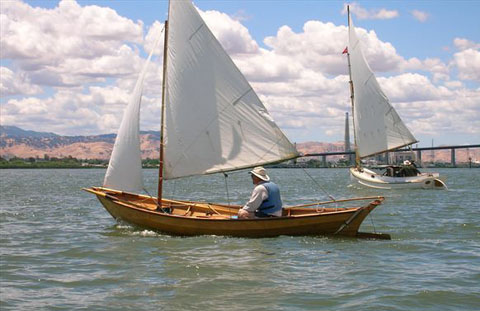 The Antioch bridge is in the background. ©2012 Don Bybee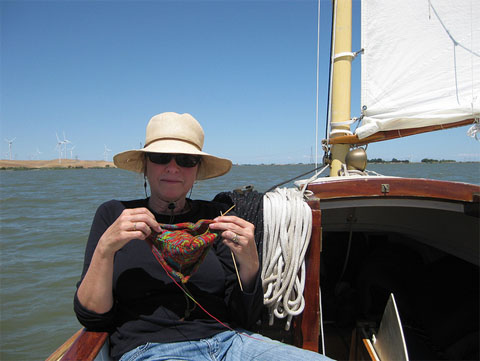 Wendy Doll found time for needlework while under sail aboard Pixie. ©2012 Bill Doll
We stayed Wednesday night at the Delta Marina, and got a chance to look around Rio Vista a bit.
Thursday most of us started with reefs again, but we were soon shaking them out. We were on our way up river to Walnut Grove. There were white caps marching up the river against the current, but since most of the day was to be a run and broad reach the reef was not needed. We needed power to make progress against the current. From my days of rowing up and down the Sacramento River in Sacramento, I remember how important it is to watch the current and play the eddies and slack water. Also, on certain points of sail it is important to stay out of the wind shadow of the cottonwoods lining the bank. I entertained myself seeing if I could make time against the other boats by creeping along the leeward bank. I was a surprise to a few yard dogs as I ghosted past, just a few feet from their backyard docks. Luckily, with my swing-up centerplate I do not have to worry about grounding. When the plate starts to bounce it is time to head back out to deeper water. Eventually the wind died away, and many of us had to motor to finish the last bit into Walnut Grove.
We spent the night in Walnut Grove at the Boondocks guest dock. Most of us walked to Locke for a Chinese dinner together. While we were at dinner we did some last minute planning. Due to our late start at the beginning of the week, more than half of the folks wanted to stay out another night. The plan would be for all of us to go down Georgiana Slough, with the stay-over group splitting off and going to Westgate Landing for the night. The rest of us would head back to Korth's, load up, and drive home on Friday. I was one of the leave-on-Friday group so missed the night at Westgate, but also the blasting winds that came up on Saturday. Due to the narrowness of Georgiana, the wind being on the nose, and an opposing current, I was with a group of three boats that motored most of the way. My Drascombe has a 2 hp Honda motor in an offset well, so just off idle you can kick back with a cool drink in hand and watch the world go by at about 4 mph. This can also be an interesting way to see the Delta, without the distractions of sailing.
This was a great trip, with moments that I remember from each day. I can still picture those white fluffy clouds, with Andrew Church and Bill Doll crossing tacks with Mt. Diablo and the Antioch Bridge in the background. Life is good when you have another chance at playing Cap'n Don, River Rat of the Delta.
- Don Bybee, Drascombe Dabber Willet
For more about this group of sailors, see the SCCC's website at http://smallcraftcruisingclub.org. Be sure to check out the Scrapbooks tab. For more photos, take a look at www.flickr.com/photos/fiddleflea/sets/72157630035832731. Also see www.chesapeakecatboats.org/TheCatboat.html.