The North American Championships for Hobie 16s and Hobie 20s were held June 18-22 on San Francisco Bay's Knox racing area. The boats arrived, rigged, registered, and practiced over the weekend; then the real racing began.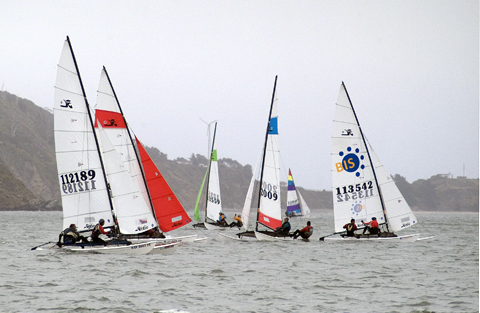 Waiting for the first start on Monday. ©2012 norcalsailing.com
Monday. The fleet woke up to fog and a light breeze to push them out of Dunphy Park to the startline set up by the Sausalito YC race committee near the Knox buoy. This is a distance of around a mile, and by 11:00, when the boats started heading out, gusts coming down off the hills caused some early capsizes and white knuckles. Welcome to Sausalito. Racing started on time at 12:00, and the wind quickly built to 20-25 knots at the top mark. The crash boats had a busy day pulling boats up, but while some cats had trouble others were tearing up the course. Three Vietnam veteran helicopter pilots ran the crash boats. "Their radio communications were excellent," remarked one RC member. We posted our first report from this event on Monday night.
Tuesday. Lighter winds and more fog greeted the racers. In fact it was so light in the morning some of the boats had trouble making it past a wind hole going to the starting area. The race committee graciously postponed until all were ready. It was a more tactical day, and staying in the wind was the key to success.
Wednesday started out sunny and stayed sunny. In 75 degrees of sun and fun the out-of-towners finally got to see sights like Alcatraz and the Golden Gate Bridge on San Francisco Bay. Like clockwork the wind filled in to 20-25 knots from the west, and with a consistent flood the water was flat and life was good.
Thursday. Whatever "Chamber of Commerce conditions" are, this was the opposite. It was cold and foggy at 11:30 for the starts and already blowing 22 knots. The leaders in the series all had capsizes and it ended up being a race of who could right faster. At the finish the wind picked up over the limit for the 20s, and the 16s had an on the water vote, agreeing that they weren't having fun anymore, so Thursday was a one-race day.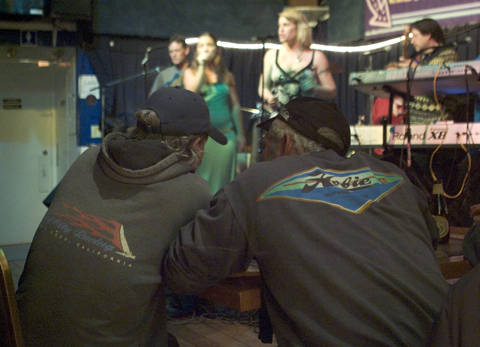 Thursday night out at Sausalito Cruising Club, with Electric Avenue onstage and Rob Howe and Bart Beck among the Hobie sailors there for the party. ©2012 norcalsailing.com
Friday. The last day saw a misty rain coming down on the competitors and light wind. "It was windier than crap for four days, then today there was nothing," said Steve Reese from the Hobie 20 Addiction. The RC were able to get in three races, and the key to winning was to follow the wind and stay out of holes.
At the end of it all were some highly skilled and dedicated (and tired) sailors with very different results for the two classes. The Hobie 16 fleet was dominated by two teams from Puerto Rico, whereas the smaller Hobie 20 fleet had a much tighter outcome. While Friday's drizzle continued outside, the awards dinner was held at Sausalito's I.D.E.S.S.T.* hall at Caledonia and Napa Streets and tales were told.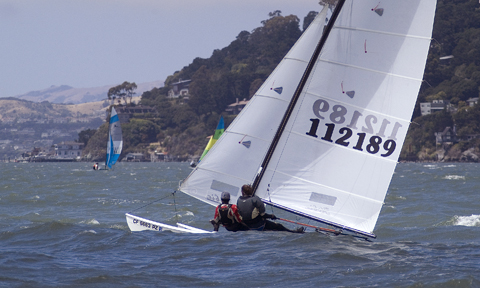 A smatter of sunshine for the Fijian team. ©2012 norcalsailing.com
Grahame Southwick and Nunn Khaipho from Suva, Fiji, travel around to different regattas. Nunn thinks Sausalito is a cute town, but too cold. "We had to get clothes for her," said Linda Sparkuhl, who's from Encinitas near San Diego-, "so she could sail here, but it's still cold. You need a drysuit. You can't say the word 'sailing' in San Francisco without saying the word 'gnarly'." A young Southern California girl crewing for her dad told him, "If it's going to be this cold, I'd rather go skiing."
The junior team of Geoffrey Nelson and Max Hudson, both 16, placed 24th out of 34 Hobie 16s. Max lives in Louisiana, and Geoffrey lives about 300 miles away in Dallas, Texas. "They've been racing a 420 since November," said Max's mother, Coco Hudson. "This was only their third time on a Hobie." They flew out, rented a houseboat and chartered a Hobie Cat. They're getting a custom trailer and heading east to Annapolis for a youth event in their own Hobie Cat, then they head up the East Coast for a 420 regatta. "We'll get out of Louisiana's summer heat," said Coco.
Mark Modderman and Ryan Flanigan finished sixth in the 16s. They drove straight through from New Jersey, except for a kiteboarding stop at a lake along the Interstate in Nebraska. Ryan is a third generation Hobie sailor.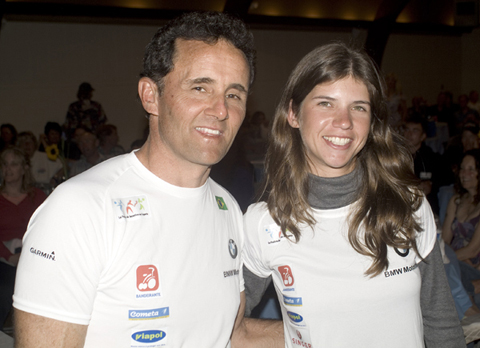 Marcos Ferrari and Priscila Ralisch from Sao Paulo, Brazil, got third place in Hobie 16s. ©2012 norcalsailing.com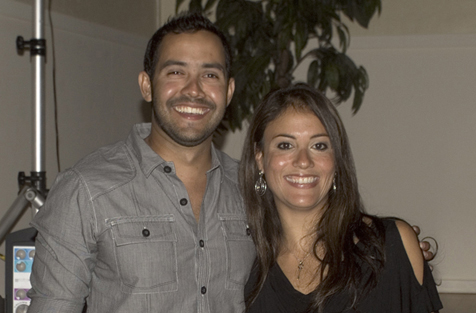 Hobie 16 sailors Francisco Figueroa and Jolliam Berrios started the regatta in second place and held onto their position throughout. ©2012 norcalsailing.com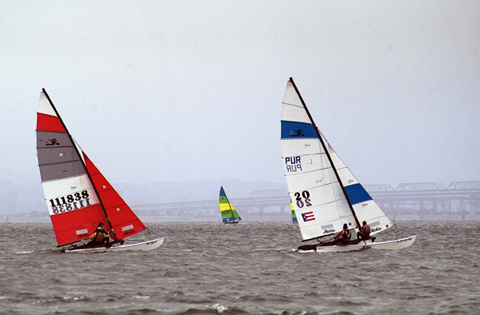 On the left, Ron and Donna Katz from Fair Oaks, and on the right, the winning team of Enrique Figueroa and Christian Maysonet. ©2012 norcalsailing.com
Christian Maysonet, crew on the winning Hobie 16, is 17 years old. "This is a big experience," he said. "It's not this windy in Puerto Rico." He's part of a youth program that his skipper and teacher Enrique (Quique) Figueroa founded for kids who might not otherwise have the opportunity to sail. The second place finishers, fellow Puerto Ricans Francisco Figueroa (no relation) and Jolliam Berrios, have won the North Americans twice. The Puerto Rico contingent chartered their boats. Since they don't own or need them back home they borrowed drysuits.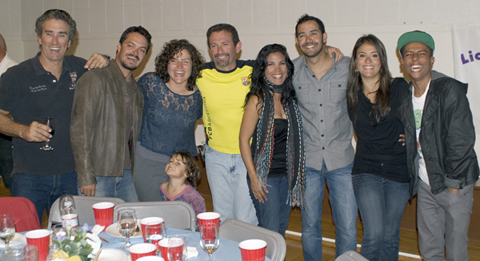 The Puerto Rican contingent. ©2012 norcalsailing.com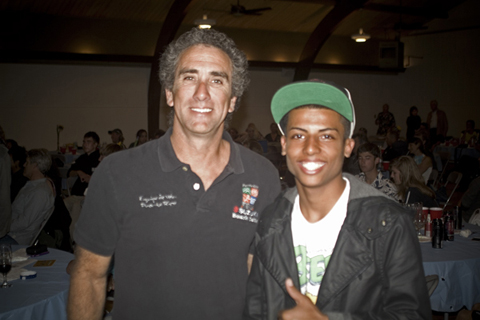 Teacher and student Quique Figueroa and Christian Maysonet from Puerto Rico dominated the week. ©2012 norcalsailing.com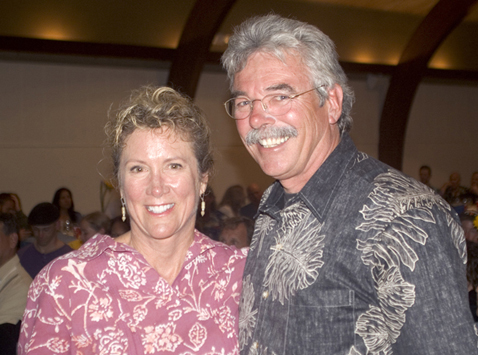 Third place Hobie 20 sailors Jane and Tim Parsons from Novato. ©2012 norcalsailing.com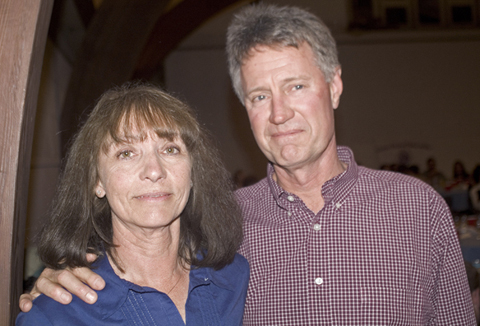 Beverly and Phil Collins of Piedmont, OK, took second place in Hobie 20s. ©2012 norcalsailing.com
A lot of husband and wife teams were racing. The first place winners in the 20s were Mark and Tiffany Lewis. After they finished Tiffany kissed her husband and said, "Thank you honey, thank you honey!"

The Lewises from Pine Grove won the Hobie 20 class by only two points. ©2012 Erik Simonson/www.pressure-drop.us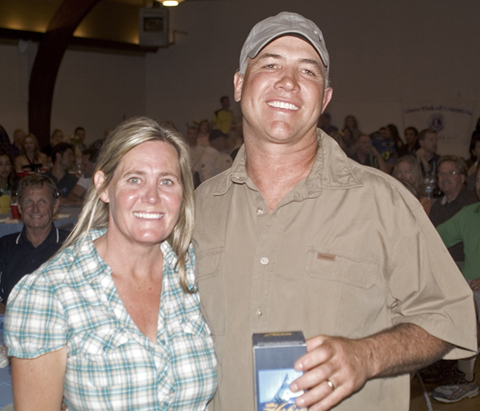 Tiffany and Mark Lewis, the 2012 Hobie 20 North American champions. ©2012 norcalsailing.com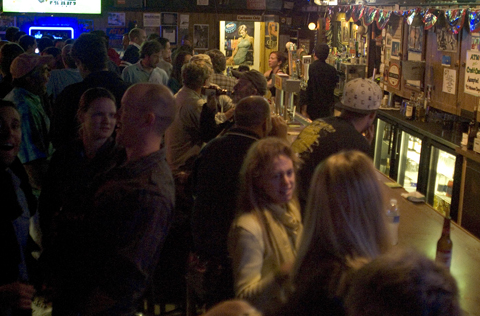 The Friday night after-party at Smitty's Bar. ©2012 norcalsailing.com
Complete results and more can be found at www.hcana.hobieclass.com. Also be sure to check our photo gallery.
*Irmandade do Divino Espirito Santo e Santissima Trinidade de Sausalito.