This weekend's racing can be summed up in one sentence: Saturday was windy and Sunday wasn't.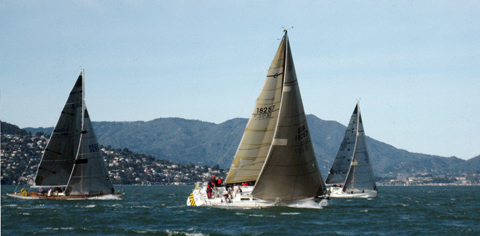 Nice sailing on Saturday. Left to right: Yucca, Express 37 pHat Jack, and J/109 Symmetry. ©2012 norcalsailing.com
A northerly blew through on Saturday, providing Golden Gate YC racers with a brisk romp around an interesting course, similar to last month, but not as blustery. PRO Matt Jones called for a minute of silence at 11:15, while Hank Easom's 8-Meter Yucca sailed over the start line sprinkling blossoms on the water as a tribute to Rob Moore.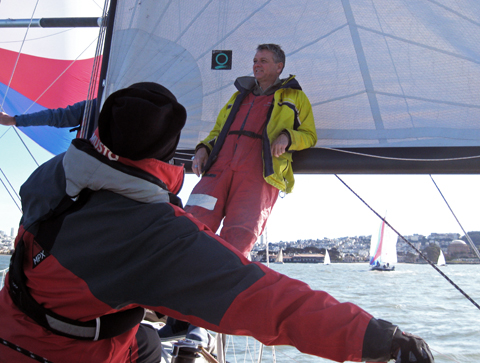 Melinda and Chris aboard Bruce Nesbit's Olson 34 Razzberries. ©2012 norcalsailing.com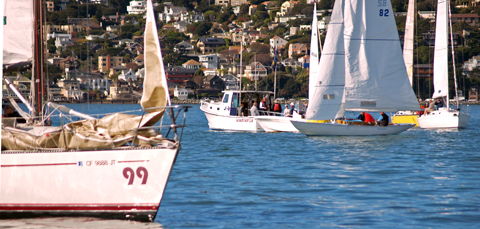 That's Razzberries' bow on Sunday. Boats milled around mother duck Mercury, waiting for the action to start. ©2012 norcalsailing.com
On Sunday, over at Sausalito YC, Rob was also honored. Single race entries were encouraged, with the entry fee to be donated to the National Lung Cancer Partnership.
Unfortunately for the racers, the lack of wind prompted a postponement. The Race Committee spent two hours hunting for wind, and waiting for it to fill in. Tugboat was the first boat to drop out. "The crew wants to know what the soup of the day is." After a pause, the response came back from the RC boat Mercury, "The soup of the day is butternut squash." Another boat called in to drop out, "due to serious gear failure." Or was that "beer failure?"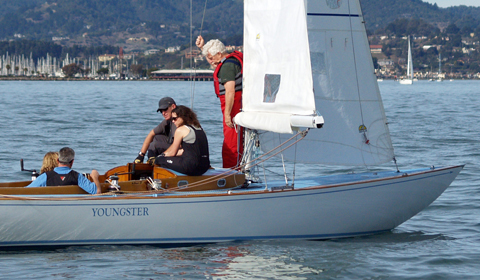 Youngsters waiting for wind. ©2012 norcalsailing.com
The weather was lovely and it wasn't exactly torture lolling about on the boat, as long as you had enough refreshments aboard - and a working engine. As the five-knot ebb built, some auxiliary-power-challenged crews began to fret, as they drifted in the general direction of the Golden Gate Bridge. It became clear that whatever little whiffs of wind might fill in, they would be ineffective in the face of that ripping ebb. The Race Committee called an end to the day with four blasts of the shotgun at 13:50. In short order, three boats got on the radio to request tows. The RC crash boat Triumph did their best to round up the boats requesting assistance.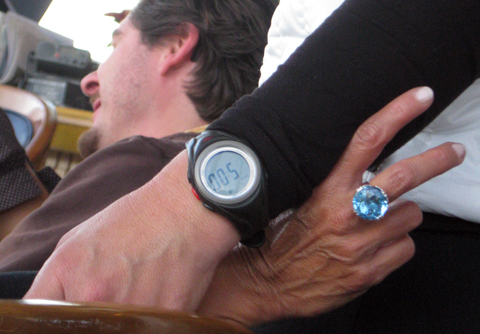 This racer never got to start her five-minute countdown timer. ©2012 norcalsailing.com
Back at the clubhouse, a sign had been set up as a memorial to Rob. In lieu of the non-existent awards ceremony, Race Chair Dave Borton told the crowd that the race was dedicated to Rob, who'd been a member of Sausalito YC in the past and raced on Yucca and Summertime Dream. Dave pointed out a box for donations to the National Lung Cancer Partnership, and wrapped up his comments by encouraging racers to return for the next installment in the series, on Superbowl Sunday.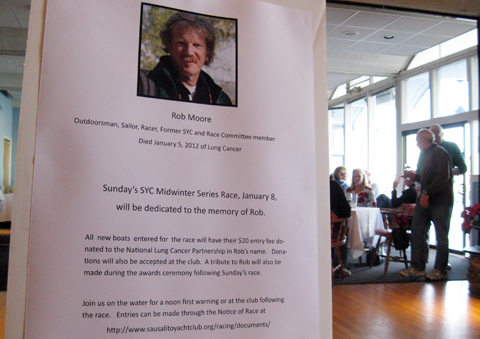 "Rob Moore, Outdoorsman, Sailor, Racer, Former SYC and Race Committee Member Died January 5, 2012 of Lung Cancer." ©2012 norcalsailing.com
Results can be found at www.ggyc.org and www.sausalitoyachtclub.org.