How do you get grown men to wear pink satin bunny ears, pink flannel jammies or pink tutus to a nice yacht club in a posh suburb? Simple, just tell them it's for a good cause.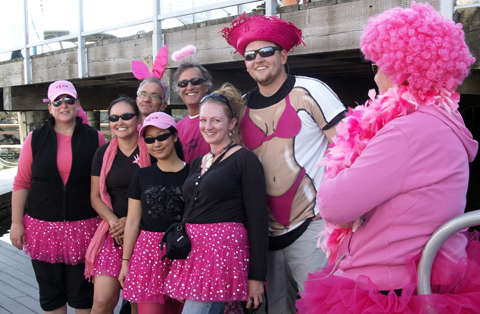 Color-coordinated crew from the Martin 32 Solar Wind and the Hunter 380 See Coach posed for photographers. ©2011 norcalsailing.com
The good cause on Sunday was breast cancer research, with proceeds going to the Breast Cancer Research Foundation, and think pink was the theme, the pinker the better. Crews decorated themselves and their boats and got in touch with their inner pink.
The race itself was a light air stroll around three buoys - the pin in front of host Corinthian YC, Pt. Stuart buoy off the northwest tip of Angel Island, and Pt. Knox buoy off the western-most point of Angel - with boats logging as many mark 'passings' as possible in three hours. Both the format and the weather were a welcome change of pace for those weary of bashing around the same old courses in heavy wind and seas.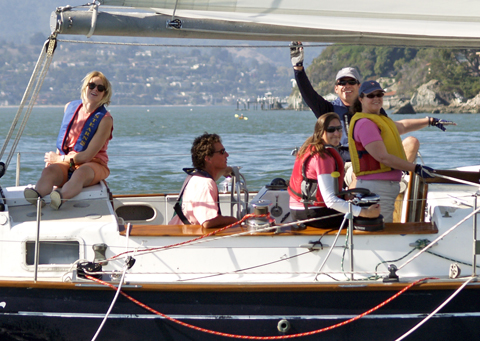 The crew of Barry Stompe and Sylvia Stewart's Hughes 48 yawl Iolani. They made use of their mizzen in the light air. ©2011 norcalsailing.com
The start in front of CYC was delayed for 15 minutes to allow San Francisco YC to start their club race around Treasure Island. Mark Dowdy's Express 37 Eclipse was the overall winner of that one. They didn't get much wind in the Slot either.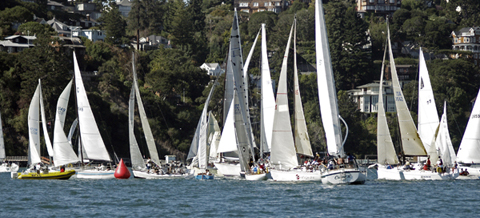 San Francisco YC Round the Island 26-boat race start. ©2011 norcalsailing.com
Twenty-five entries started the Pink Boat Regatta at 12:20 in a warm northerly breeze. "We kept expecting the westerly to fill in, and it finally did toward the end, but it didn't have much force behind it," commented one skipper. "We mostly played the lanes of current - ebb in the middle to get outbound and flood next to the island to get back. Crossing Raccoon Strait in light air and strong current is always a challenge. The river will carry you sideways toward Sausalito. Those who crossed over to the shore of Belvedere might have done a little better."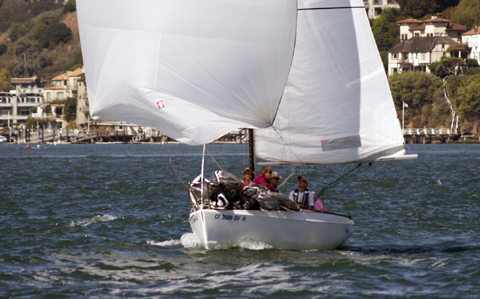 Lon and Susie Woodrum's Moore 24 Frenzy won the C-Cup PHRF division. ©2011 norcalsailing.com

Kristen Sotebier skippered Ben and Lucie Mewes's Van De Stadt 40 Georgia. ©2011 norcalsailing.com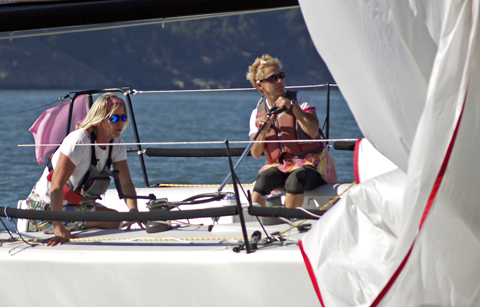 The 1D35 Dark and Stormy drops the spinnaker for one last rounding of Knox. ©2011 norcalsailing.com
Michelle Diaz and Lee Krasnow sailed their Alameda-based Ranger 23 Rigel in their first race with the boat, which they bought eight months ago. "It felt good. We rounded 10 buoys and didn't crash." They used twin headsails.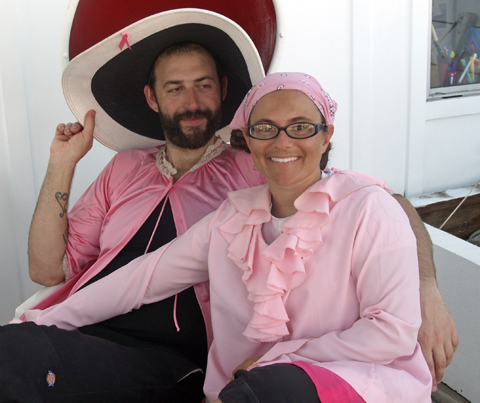 The crew of Rigel found a spot to relax in the shade. They got second in the DD-Cup PHRF division. ©2011 norcalsailing.com
Time ran out for counting marks at 15:20 and most of the crews headed back to the Corinthian. Volunteers tallied points for passing marks, raising donations, and decorating boats while the sailors soaked up more sunshine on the clubhouse deck. Awards were handed out for all of the above, plus most marks rounded by a woman skipper (Marika Edler on Ohana), the club with the most points (Singlehanded Sailing Society with 88.1 points!) and division awards. Complete results can be found at www.thepinkboat.org/Regatta/results.aspx. For more event photos, see Roxanne Fairbairn's SmugMug gallery.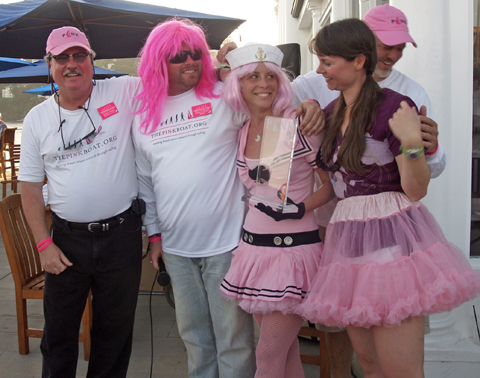 At the awards ceremony. ©2011 norcalsailing.com
Not too many folks would go so far as to repaint their perfectly pretty yellow boat a shocking pink to raise awareness, but that's what race organizer Thomas Watson did to his 28-ft Triton Darwind. The pink boat's adventure is just beginning, and we'll have more in the months to come.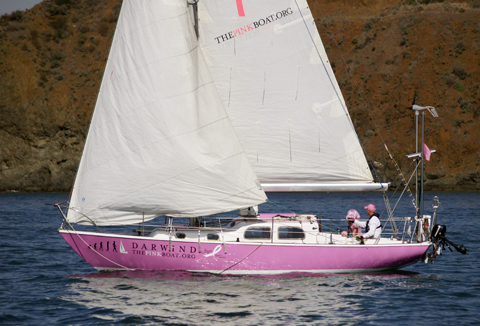 Darwind raced on Sunday with guest skipper Ashley Bell and won the DD-Cup division. ©2011 norcalsailing.com